1001 Comics You Must Read Before You Die edited by Paul Gravett – review
An essential collection for serious comics fans
Michel Faber
guardian.co.uk, Thursday 8 December 2011 12.50 GMT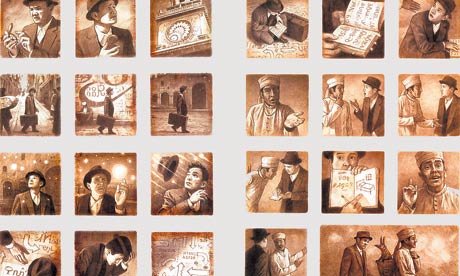 Culture shock: The Arrival, Shaun Tan's sepia evocation of immigrant experience.
Paul Gravett's 2005 compendium Graphic Novels: Stories To Change Your Life set a standard not just for excellence but also for immodest titles. At first glance, 1001 Comics You Must Read Before You Die seems to crank up the cockiness even further. However, this book is just part of Cassell's trademarked series of guides to paintings, movies, buildings, historic sites and other cultural highlights you must sample before your demise. Gravett's role is that of editor, collating articles written by 65 contributors from all over the world. The medium's ongoing struggle for respect is underlined by the fact that, despite this international community of lecturers, museum curators and historians, the cover blurb still feels the need to tell you that "comics are emphatically no longer just for kids".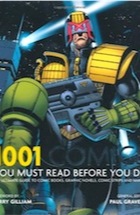 1001 Comic Books: You Must Read Before You Die
by Cassell Illustrated
Terry Gilliam, accorded equal billing with Gravett, seems to have been roped in mainly for his celebrity value, as his two-page foreword amounts to nothing more than a few amiable anecdotes. One of these, about the illicit stash of Adventures of Flesh Garden that alerted his parents to "the sex-mad beast that was being spawned in their son's rapidly changing body", bolsters the clichéd view of comics as the fantasy fuel of adolescent boys and undermines what the next 953 pages seek to prove: that comics address a marvellously broad range of experience and can appeal to anyone. The choice of cover illustration – Judge Dredd toting a massive gun – typecasts the demographic still further.
A pity, because this book is more inclusive, more useful and less culturally blinkered than other 1001 Before You Die efforts. It belongs in the home of anyone who is serious about investigating this boundlessly fertile art form. And there are many readers who have yet to begin that investigation, despite comics' long history. (One of the earliest items in this chronological exploration was produced by Gustave Doré in 1854.)
The word "comics" in the title has a necessarily elastic scope. Sometimes it means standalone graphic novels, sometimes individual issues of a comic series, sometimes notable storylines within a series, and sometimes entire runs, such as the 102 issues of Fantastic Four produced by Stan Lee and Jack Kirby. All titles are given in English, although not all are available as such (Tomaž Lavric's Bosanske Basni is listed as Bosnian Fables, but the nearest Lavric's book has got to our island is the French edition). Indeed, the imperviousness of British and American tastes to some continental institutions is remarkable: Gaston, the Belgian slacker whose exploits have charmed Europe for half a century, was once trialled for a few pages in a 1990s American anthology as "Gomer Goof" and then abandoned. In the world of comics, as in literature generally, there is no assumption that what interests a million Europeans should automatically be offered in English.
Manga and bandes dessinées are heavily represented but there are welcome contributions from Sweden, Germany, Norway, China and a host of exotic elsewheres. I enjoyed the unintentional humour in Hemant Sareen's dispatch from New Delhi: "India's first graphic novel, Orijit Sen's The River of Stories, has remained a hallowed presence on the Indian comics scene despite being out of print since it was published." Gabriella Giandelli's eerie meditation on the life of a building, Interiorae, and Gipi's chronicle of moral erosion, Notes For a War Story, were unknown to me a week ago, but are now on my wish-list. A longtime favourite of mine, the Spanish satirist Miguelanxo Prado, gets his due, and what a delight to see Australia's Michael Leunig finally receiving some recognition in this country.
While each selection is deemed a classic of its kind, no attempt is made to filter out the kids' stuff from the erotica, the meditative memoir from the superhero slugfest, Palestine from Peanuts, Maus from Mickey Mouse. Sensible as this policy might be, it does mean that terms such as "powerful", "complex", "hilarious", "profound", etc, are even more relative than usual. It's doubtful whether a reader who admired the disturbing ambiguities of Phoebe Gloeckner's A Child's Life would find the simplistic melodrama of a 1970s Iron Man storyline "challenging and provocative", or whether a reader gobsmacked by The Arrival, Shaun Tan's sepia evocation of immigrant experience, would find Spider-Man: Clone Saga "astounding".
If this book is to function as a guide to essential purchases, each reader will need to ponder each entry with a dash of scepticism to avoid being disappointed. In this respect, Gravett's Graphic Novels: Stories To Change Your Life was superior, in that it reproduced many entire pages of the comics, allowing you to evaluate the artwork and script for yourself. Most of the illustrations here are reproductions of covers, accompanied by précis that can occasionally be opaque ("the mushi are described as something close to the core of life", observes a contributor from Japan).
Any encyclopaedic survey provokes criticism for what it omits, and 1001 Comics, despite its wrist-straining bulk, is no exception. Before you die, you're urged to read no fewer than five Tintin books but none by Dave Geiser, Roberta Gregory or Dick Matena. There are several pornographic artists covered (by female scholar-enthusiasts) but Ignacio Noé, the best practitioner still alive, is overlooked. It's regrettable, too, that Melinda Gebbie, whose 1980s undergrounds were more distinctive and better-drawn than many featured here, is noted only for her recent collaboration with her husband, Alan Moore. And so on. Each fan will have his or her gripes, but we should celebrate what's included: the overwhelming majority of the art form's greatest achievements, and plenty of its underappreciated gems.
Ah, but I know what you're thinking, those of you who'd like to get to grips with this medium but are dutifully consuming Julian Barnes' Booker-winning chef-d'oeuvre instead. How can you be seen reading a tome with Judge Dredd on the cover and Hellboy punching demons inside? Well, look at it this way: studying 1001 Comics You Must Read Before You Die is like visiting the world's most fabulously well-stocked comics shop. This virtual emporium may be far superior to Forbidden Planet, but it can't afford to ignore its regular customers. If superheroes, homicidal maniacs and feisty animals are not your thing, you'll just have to tolerate them as you discover a wealth of other delights. Eventually, the realisation may even sneak up on you that a good superhero comic is better than a bad literary novel. Jack Kirby's New Gods or Martin Amis's The Pregnant Widow? Pow! No contest.
• Michel Faber's The Fire Gospel is published by Canongate.

eddie

The Gap Minder




Posts

: 7840


Join date

: 2011-04-11


Age

: 62


Location

: Desert Island



Archie gay marriage comic sells out in face of boycott call
Conservative lobby One Million Moms' campaign for Toys R Us to withdraw wedding issue from sale falls flat
Alison Flood
guardian.co.uk, Friday 2 March 2012 11.00 GMT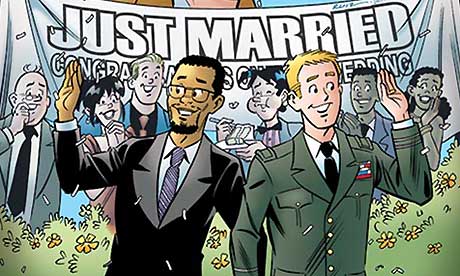 Archie's happy ending: detail from the cover of now sold-out gay wedding issue
Despite attempts by a conservative American mothers' group to have it pulled from sale, the new Archie comic, which features a gay marriage, has just sold out.
Tracing the adventures of the teenagers Archie, Betty and Veronica in the small town of Riverdale, the Archie storyline has been running for 70 years and is one of America's most popular comic series. Its publisher described the marriage of Kevin Keller, the series' first gay character, in the latest issue as "a historic moment", announcing yesterday that the Life with Archie #16 had sold out.
The strong sales follow a call from the American Family Association's website One Million Moms for Toys R Us to stop selling the new Archie issue. The conservative Christian group is concerned that "children are now being exposed to same-sex marriage in a toy store". "Please remove all the same-sex 'Just Married – Archie' comic books immediately from your shelves. My decision to shop in your stores depends on it," they have written to the retailer.
Homosexuality is a topic which is "too complicated" for children to understand, say the mothers, and "a trip to the toy store turns into a premature discussion on sexual orientation and is completely uncalled for".
But Archie Comics co-chief executive John Goldwater has said that the company "stands by" the new issue. "Riverdale is a safe, welcoming place that does not judge anyone. It's an idealised version of America that will hopefully become reality someday," he said.
"We're sorry the American Family Association/OneMillionMoms.com feels so negatively about our product, but they have every right to their opinion, just like we have the right to stand by ours. Kevin Keller will forever be a part of Riverdale, and he will live a happy, long life free of prejudice, hate and narrow-minded people."
Announcing yesterday that the Kevin Keller issue had sold out, Goldwater said that Archie's fans "have come out full force to support" the gay character. "He is, without a doubt, the most important new character in Archie history. He's here to stay," Goldwater added.

eddie

The Gap Minder




Posts

: 7840


Join date

: 2011-04-11


Age

: 62


Location

: Desert Island





Similar topics
---
Permissions in this forum:
You
cannot
reply to topics in this forum