Kurt Vonnegut's dark, sad, cruel side is laid bare
A biography of the author of Slaughterhouse Five undermines his warm, grandfatherly image
Paul Harris in New York
guardian.co.uk, Saturday 3 December 2011 23.22 GMT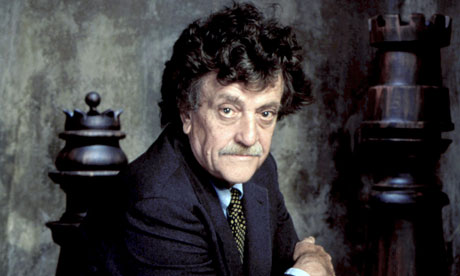 Despite being hailed by so many as a genius, Kurt Vonnegut felt that the literary establishment never took him seriously. Photograph: Crescent/Everett /Rex Features
A new biography of acclaimed American author Kurt Vonnegut, beloved by fans worldwide for his work's warm humour and homespun Midwestern wisdom, has shocked many with a portrayal of a bitter, angry man prone to depression and fits of temper.
The book on Vonnegut, who died in 2007, lifts the lid on the writer's private life, revealing a man far removed from the grandfather-like public figure his millions of devotees adored.
And So It Goes was written by Charles Shields, who also wrote a controversial biography of Harper Lee, author of To Kill A Mockingbird. The book paints a picture of a man who was often distant from his children, cruel to a long-suffering first wife, caught in an unpleasant second marriage and spent much of his later years depressed and angry. "Cruel, nasty and scary are the adjectives commonly used to describe him by the friends, colleagues, and relatives Shields quotes," wrote one reviewer, Wendy Smith, on the Daily Beast website. The New York Times reviewer, Chris Buckley, called Shields's portrayal "sad, often heartbreaking".
Through novels such as The Sirens of Titan, Cat's Cradle and the classic Slaughterhouse-Five, Vonnegut's career spanned five decades, often working in the science fiction genre, and catapulted him into the canon of great American writers. His work, while often dealing with tragedy, was famed for espousing humanitarian, even socialist values, and often had a strong anti-war, anti-capitalist feel. It is full of references to the virtues of small-town life, volunteer firefighters and the Midwest, especially his home city of Indianapolis.
Yet Shields's book is unsparing in its portrayal of Vonnegut's dark side. It reveals that the writer – whose experience as a PoW during the firebombing of Dresden scarred his psyche for life – had no qualms about investing in firms that made napalm or indulged in a host of other morally suspect activities. He fell out with friends, editors and relatives and had a shocking temper. In later life he appeared deeply bitter and lonely. In the opening part of the book Shields describes meeting Vonnegut just a few months before his death. He describes Vonnegut asking him to look up his name in a dictionary (it was not there) and then look up Jack Kerouac (it was there). "How about that?" Vonnegut then states with a frown. The chapter of Shields's book dealing with Vonnegut's final 15 years of life is called simply "Waiting to Die".
"Towards the end he was very feeble, very depressed and almost morose. I think that slants this book," said Jerome Klinkowitz, an academic at the University of Northern Iowa and one of the world's leading experts on Vonnegut.
"It is a little naive to be surprised by this," said Gregory Sumner of the University of Detroit Mercy, who recently wrote a book exploring Vonnegut's work, called Unstuck In Time. "Personal relationships were difficult for him. He had a lot of survivor's guilt."
Vonnegut definitely had survived a lot. His once wealthy family was impoverished by the Great Depression, causing grim strains in his parents' marriage. His mother committed suicide. His beloved sister died of breast cancer, a day after her husband was killed in a train accident. But the defining horror of Vonnegut's life was his wartime experience and surviving the Dresden bombing, only to be sent into the ruins as prison labour in order to collect and burn the corpses. The ordeal cropped up continually in his work, but most notably formed the basis of Slaughterhouse-Five, the book that made Vonnegut famous.
But there was more to it than just coping with such traumatic situations. In later life, despite being hailed by so many as an American genius, Vonnegut felt that the literary establishment never took him seriously. They interpreted his simplistic style, love of science fiction and Midwestern values as being beneath serious study.
The book will do little to dampen enthusiasm for Vonnegut's work. "He's not a relic of the 1960s. His work is vibrant today even posthumously," said Sumner. "Maybe we just expect too much of our heroes."

eddie

The Gap Minder




Posts

: 7840


Join date

: 2011-04-11


Age

: 62


Location

: Desert Island



Kurt Vonnegut's son attacks biography of his father
Mark Vonnegut says Charles Shields' And So It Goes ignores much evidence in portraying Slaughterhouse-Five author as a bitter old man
Alison Flood
guardian.co.uk, Wednesday 7 December 2011 17.13 GMT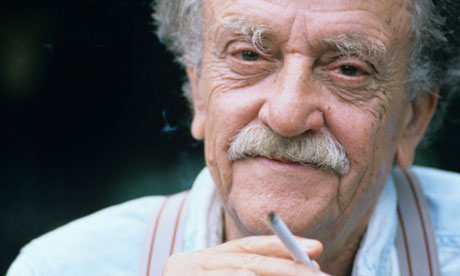 Kurt Vonnegut at his home in Long Island in 1998. Photograph: Joanne Savio / Retna
Kurt Vonnegut's son has hit out at a new biography of the Slaughterhouse-Five author which paints him as a bitter, lonely old man.
Charles Shields' And So It Goes depicts Vonnegut as an angry man prone to fits of depression, cruel to his first wife and even investing in Dow Chemical, a maker of napalm. Vonnegut was desperate for appreciation, Shields writes, describing a meeting with the author a few months before his death in 2007 when Vonnegut's own name was not to be found in a dictionary, but Jack Kerouac's was. Frowning, Vonnegut then asked: "How about that?"
"Kurt was not the person I expected to meet," Shields told the Charlottesville Daily Progress in an interview in which he describes the author as a friend. "He struck me as a man who was in pain and who was haunted by the past. When you read his books you get his droll sense of humour and his joshing. You get his kind of avuncular attitude. Then, when I meet him, I find an 84-year-old man who is angry about his parents, and is unhappy about his first marriage that ended years before. He feels he is unappreciated by critics, that he has been ignored by the eggheads. So I met a man who should be enjoying the golden years of fame and success. Instead he comes off as a very aggrieved person who wanted to settle some scores, and wanted it known just how he had been treated."
But Mark Vonnegut, the late author's son, has disputed the portrait of his father drawn by Shields. "I'm happy to reassure you that Kurt did not die a bitter man who kept thinking he was a failure," he has written in an email to the science fiction website io9.
Vonnegut did not, said his son, buy Dow stock, and had "next to no interest in investments or expensive things", claiming that Shields had ignored a lot of evidence in order to produce his portrait of the writer.
The biographer, writes Vonnegut's son, "spent very little time with a much diminished 84-year-old who right up to the end showed more flashes of brilliance and warmth than most. There's a ton of evidence, including his art and writing, that he fought hard and largely succeeded to overcome PTSD from WWII and a quirky, but not altogether unloving childhood to have mostly loving and supportive relationships with his siblings and children and even his allegedly distant father".
Although Vonnegut's son admits that the acclaimed science fiction author was "not a perfect man or father, and I'll grant you two failed marriages", he ends by calling on readers to "employ a modicum of critical thinking before buying into the truth of a book whose existence is completely and utterly dependent on a picture that Shields would have made up out of whole cloth if he had to".

eddie

The Gap Minder




Posts

: 7840


Join date

: 2011-04-11


Age

: 62


Location

: Desert Island




---
Permissions in this forum:
You
cannot
reply to topics in this forum