"A whited sepulchre: beautiful to behold, but a mass of corruption within": children's author Philip Pullman's description of the Catholic Church.
True or false?
*********************************************************************************************************
Head of Irish Catholic Church agrees abuse deal
Reuters
Head of the Irish Bishops Conference Cardinal Sean Brady speaks during a news conference at the Vatican following a two-day meeting with Pope Benedict XVI February 16, 2010. REUTERS/Max Rossi
DUBLIN (Reuters) - The head of the Catholic Church in Ireland has agreed to a legal settlement over his role in administering an oath of secrecy to a teenage victim of clerical sexual abuse in 1975, the victim's lawyer said on Wednesday.
Cardinal Sean Brady has previously said he was ashamed that he had been present at meetings where children had to sign oaths of silence about allegations of abuse against Nobertine priest Brendan Smyth, one of Ireland's most notorious paedophiles. Many victims have called on Brady to resign.
Smyth died in 1997, just one month into a 12-year sentence after pleading guilty to 74 charges of indecent and sexual abuse on boys and girls for more than 30 years, many after Brady oversaw the oath.
Brendan Boland, now 50, sued Brady over his role in administering an oath of secrecy after he was abused by Smyth from 1973, when he was 12 years old.
A lawyer for Boland told reporters a settlement had been reached with the cardinal to end legal proceedings but declined to give further details. Irish media reported the settlement included a six-figure euro sum for Boland.
"I am most disappointed that he has refused even through his lawyers in court to publicly acknowledge and accept the failings of the Church in its handling of the circumstances giving rise to this case," Boland said in a statement.
A spokesman for the cardinal said the settlement had been reached between Boland and the Archdioceses of Armagh, of which Brady is head, on the basis that the abuse occurred there.
The church in predominantly Catholic Ireland has been rocked by a series of reports of child sex abuse stretching back decades and church leaders' complicity in covering it up.
Hundreds of cases of sexual and physical abuse of youths in recent decades by priests have come to light in Europe and the United States as disclosures encourage long-silent victims to go public with their complaints
A church watchdog Wednesday released reports on child protection practices in several Irish dioceses in recent decades in which it criticized delays reporting abuse to the civil authorities and errors of judgements by bishops.
It found there were serious delays in the reporting of abuse to civil authorities in the Diocese of Raphoe in the northwest of Ireland, where one priest, Father Eugene Greene, has admitted to more than 40 charges of indecent and sexual assault.
But victims said they did not trust the church to police itself.
"It doesn't clarify anything for any victim," Martin Gallagher, who was abused by Greene, told state broadcaster RTE. "What we want is a state investigation."
(Writing by Conor Humphries; Editing by Andrew Heavens)

eddie

The Gap Minder




Posts

: 7840


Join date

: 2011-04-11


Age

: 62


Location

: Desert Island



This is the very same Catholic church (Ealing Abbey, west London) my mum used to take us to when we were children.

***************************************************************************************************************
Ealing Abbey Set to Lose Control of School after Inquiry into Sex Abuse
London Evening Standard
November 7, 2011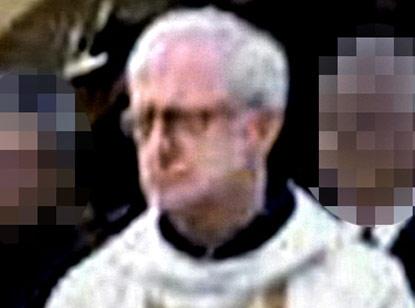 On the run: Father Laurence Soper
Monks are to be stripped of their role in running a leading London Catholic school in the wake of a sex abuse scandal, an official report is due to reveal.
Ealing Abbey, which has run the neighbouring St Benedict's school for more than 100 years, is expected to lose this position in an overhaul of the school's governing body designed to prevent future abuse.
The plan, which means that St Benedict's will become fully independent, is understood to be the key recommendation of a report carried out for the school by leading QC Lord Carlile of Berriew that will be published on Wednesday.
It follows a paedophile scandal that led to the conviction of Father David Pearce, an Ealing Abbey priest and former head of St Benedict's junior school, and allegations against others from the Abbey.
One other senior figure there, Father Laurence Soper, the former abbot, is on the run after failing to return from Rome to answer bail imposed over potential child abuse offences.
Lord Carlile's report, which the peer will unveil alongside the head of St Benedict's, Christopher Cleugh, was commissioned by the Abbey to examine how to improve child protection.
The report follows the recent disclosure that the Vatican is examining the conduct of teachers and monks at St Benedict's and Ealing Abbey.
An apostolic visitation, led by two senior church officials, was ordered by the influential Congregation for the Doctrine of the Faith in Rome in response to increasing evidence about the scale of the abuse scandal, which dates from 2009 back as far as the Sixties or earlier.
In addition to the prosecution of Father Pearce and the investigation into Father Soper, police also probing the conduct of three other former teachers, two of whom were clergymen, after further abuse claims.

eddie

The Gap Minder




Posts

: 7840


Join date

: 2011-04-11


Age

: 62


Location

: Desert Island





Similar topics
---
Permissions in this forum:
You
cannot
reply to topics in this forum