Nobel author Gabriel García Márquez wins 17-year legal fight over murder classic
Colombian court rules against man who claimed author used his life story for main character in Chronicle of a Death Foretold
Tom Phillips
guardian.co.uk, Wednesday 30 November 2011 15.02 GMT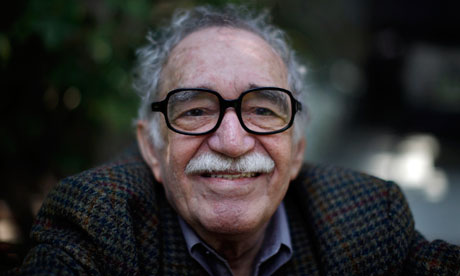 Gabriel Garcia Marquez: final victory in legal battle over his book Chronicle of a Death Foretold that began in 1994. Photograph: Miguel Tovar/AP
On the day they were going to kill him, Cayetano Gentile Chimento got up oblivious to his impending murder. Within hours the dashing Colombian medical student was dead, repeatedly stabbed for allegedly deflowering another man's bride.
Few would today remember the 1951 murder, but for the intervention of one of Latin America's best-loved authors. The killing served as the inspiration for Gabriel García Márquez's Chronicle of a Death Foretold – a 1981 classic that cemented the author's reputation as a literary master.
But Márquez's blend of fact and fiction also led to accusations that he had unlawfully misappropriated the life-story of another man and prompted a lawsuit by Miguel Reyes Palencia, who claimed that Márquez had based the novel's main character, Bayardo San Román, on his life.
This week those accusations were finally dismissed as a supreme court in the Colombian city of Barranquilla ruled that Palencia had no right to compensation. The case against Márquez was first brought in 1994, when Palencia claimed that the 1982 Nobel literature laureate had unlawfully used his life story as the basis for Chronicle of a Death Foretold. Palencia demanded 50% of the book's royalties as well as a co-author credit.
Márquez's book tells the story of Bayardo San Román, a wealthy Colombian who Palencia said was modelled on him.
In the novel San Román weds Angela Vicario, a beautiful local girl, only to send her back to her family in disgrace after discovering that she is not a virgin.
Vicario's family, livid at their daughter's rejection, force her to name the man who took her virginity. She accuses Santiago Nasar.
Nasar, who is based on Chimento, is subsequently killed by her drunken brothers, who repeatedly stab him with butchers' knives.
While Márquez has long admitted his book was inspired by Palencia's family history and the murder of Chimento, the author argued that the names and the rest of the book's plot were the fruits of his own imagination.
In its ruling on Tuesday, the court agreed. "Hundreds of literary, artistic, and cinematographic works have had as their central story facts from real life, which have been adapted to the creator's perspective, without this being an impediment to [the author's right] to claim economic rights over them."
The court also dismissed Palencia's demand to be credited as a co-author. "Mr Miguel Reyes Palencia could never have told the story as the writer Gabriel García Márquez did, and could never have employed the literary language that was actually used. The work is characterised by its originality."
Speaking to the Colombian newspaper El Tiempo, Márquez's lawyer, Alfonso Gómez Méndez, celebrated the verdict.
"This ruling is important, because it helps enhance the central thesis, which is valid for literature and art in general, that what matters is the way it presents an object of reality, not reality itself. It's like a woman who poses for a painter [but] then demands half the copyright. She owns her body but the work itself belongs to the painter," he said.

eddie

The Gap Minder




Posts

: 7840


Join date

: 2011-04-11


Age

: 62


Location

: Desert Island



I hated Love In The Time of Cholera.

LaRue

Suzerain Emeritus




Posts

: 117


Join date

: 2011-04-11



LaRue wrote:I hated Love In The Time of Cholera.
Ever read Artaud's "Theatre and the Plague"?

eddie

The Gap Minder




Posts

: 7840


Join date

: 2011-04-11


Age

: 62


Location

: Desert Island




LaRue

Suzerain Emeritus




Posts

: 117


Join date

: 2011-04-11



Much worse.
Actually, it's a marvellous piece of writing, but as a manifesto for the Theatre it's more or less unattainable. Worth reading, certainly.

eddie

The Gap Minder




Posts

: 7840


Join date

: 2011-04-11


Age

: 62


Location

: Desert Island



I think my father's got Love In The Time of Cholera... I'll try and see what makes LaRue hate it.

I've only read A Hundred Years of Solitude and liked it a lot.
I just didn't find any of the characters in 'Love in the time of cholera' particularly likeable. I wanted to give them all a slap and I didn't really care about what happened. It's supposed to be some kind of magical love story, but really it's about a stalker sex addicted paedophile... I thought it was writeen beautifully, but good god I hated it.

LaRue

Suzerain Emeritus




Posts

: 117


Join date

: 2011-04-11



Gabriel Garcia Marquez novel gets first ever authorised release in Chinese
Publisher paid $1m for right to publish Chinese edition of One Hundred Years of Solitude, reports say
Alison Flood guardian.co.uk, Friday 29 April 2011 09.12 BST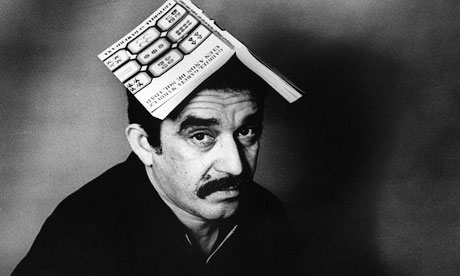 Enraged by piracy, Gabriel Garcia Marquez swore his books would never be authorised in China. Photograph: Isabel Steva Hernandez (Colita)/Copyright Corbis
A Chinese publisher is set to bring out the first ever authorised edition of Gabriel Garcia Marquez's One Hundred Years of Solitude in Chinese, after winning an auction for the rights with a fee reported to be in excess of $1m (£600,000).
Pirated editions of the Nobel prize-winning author's most famous novel – "the first piece of literature since the Book of Genesis that should be required reading for the entire human race," according to William Kennedy – have been rife in China for decades. The piracy so enraged Marquez on a visit to the country in 1990 that he swore that even 150 years after his death his books would not be authorised in China, according to Chinese newspaper the Global Times.
But Thinkingdom House editor-in-chief Chen Mingjun refused to take no for an answer, writing a letter to the author in 2008 which according to the Global Times read: "We pay our respects to you across the Pacific Ocean, making every effort, shouting 'great master!' just like you did to your idol Ernest Hemingway across the streets in Paris … We believe that you'd also wave your hand and shout back 'Hello friend!' just like Hemingway did."
Thinkingdom House emerged triumphant from the auction for the Chinese rights in One Hundred Years of Solitude which followed. The Beijing-based publisher also publishes Chinese editions of books by authors including AS Byatt and Zadie Smith. It will publish the book this summer, and is also promising a crackdown on pirated editions of Marquez's story of generations of the Buendia family.
Jo Lusby, managing director of Penguin China, which publishes the English language edition of One Hundred Years of Solitude, said the size of the advance had "already created an enormous amount of interest" in the novel, despite it being "widely available in pirated forms for a long time".
"I think they'll be lucky if they can meaningfully address the presence of cheap pirated formats out on the streets, though," she said.
The deal, however, "does serve to demonstrate why China is at a fascinating point", she added. "Even at a time when writers and artists (such as Ai Weiwei) are disappearing in crackdowns, publishers are bullish about the future, and it's one of the few places in the world where you can attend the opening of a large scale chain bookstore (I went to one in Beijing two weekends ago)," she said.
Whether paying such a large sum of money for a book is a sign of health in the Chinese literary market, or a warning that the market may be overheating is less clear, she continued, "but this kind of thing doesn't happen very often, and with a bit of luck it will instead be something of a major publishing event rather than the symptom of a mania".
guardian.co.uk © Guardian News and Media Limited 2011

eddie

The Gap Minder




Posts

: 7840


Join date

: 2011-04-11


Age

: 62


Location

: Desert Island





Similar topics
---
Permissions in this forum:
You
cannot
reply to topics in this forum