Gerald Laing
One of Britain's best-known pop artists of the 1960s
Michael McNay
The Guardian, Friday 25 November 2011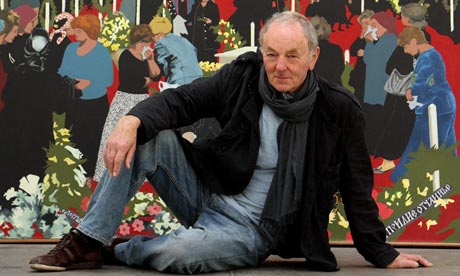 Gerald Laing with one of his works, Catechism, at the Stolen Space gallery, London, in 2007. Photograph: Jonathan Hordle/Rex
When Gerald Laing passed out from the Royal Military Academy, Sandhurst, in 1955 and joined up with the Royal Northumberland Fusiliers, his destiny as one of Britain's best-known pop artists seemed remote. However, the fame – achieved within just 10 years – was tarnished by the time when, late in life, he returned to pop as he sensed the potential power of the ill-fated Amy Winehouse as an image.
Life in Britain in the early 1950s had seemed tedious to Laing, who has died of cancer aged 75, so joining the regiment in which his grandfather had also been an officer seemed the natural thing to do. But things were stirring in postwar austerity Britian, and in 1957 he saw a performance of Look Back in Anger which transformed his life.
For him, as for many of his generation, John Osborne's play articulated what seemed wrong with Britain. As the critic Kenneth Tynan wrote when he picked Look Back as his play of the year 1956, it "split families in almost the same way as they were split over Suez". Laing realised that he was a rebel, and that the army was not the ideal setting for a rebellion. After five years with the colours, he prised himself free in 1960 and took up student life at St Martin's School of Art in central London.
Very soon he was using his elbows to get what he needed from an institution that armed students with stiff hogs hair brushes so that they would produce surfaces roughened with vigorous brush marks as a raft of "painterly" English artists had in the wake of the post-impressionists. What had caught Laing's attention was the romance of the mass-produced newspaper photograph, that grey dramatic image distanced from life by its composition of small dots. He simulated this look in his painting, about the same time as Roy Lichtenstein took the same route in America. Although he valued visiting tutors such as Richard Smith and Peter Blake, he voluntarily exiled himself from his college studio and painted at the top of the stairs to be out of the way of staff.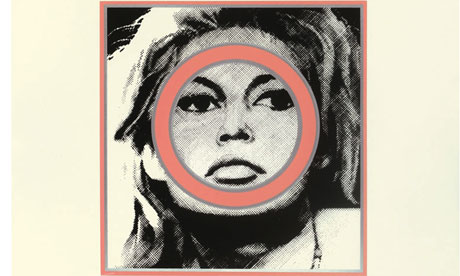 Gerald Laing's screenprint Brigitte Bardot, 1968, was based on a painting of five years earlier, while he was still a student
There he produced the earliest of his best-known pop paintings, of European cinema's brightest star, Brigitte Bardot, and of Anna Karina, wife and muse of the new-wave director Jean-Luc Godard, a portrait painted on nine joined canvases, making it as big as a billboard. Smith had recently returned from a two-year spell on a Harkness fellowship in the US, and when Laing told him that he proposed spending the summer of 1963 in New York, Smith gave him introductions to Andy Warhol, Lichtenstein, Jim Rosenquist and Robert Indiana.
The names were unknown to Laing, but soon they composed the aristocracy of the new American painting, a bonus for Laing when they readily accepted him. Most useful was Indiana, who employed Laing as a studio assistant for that summer. During this time, Laing found the subjects for the paintings of his most successful period: skydiving, hotrod cars, drag racing, all the sort of stuff that Tom Wolfe was popularising in the US and which already had a strong niche following through magazines in Britain.
He then returned to the grim house in Spitalfields, east London – where he had left his wife, Jennifer, and their child, both of whom he had acquired in 1962 – and while completing the final year of his St Martin's course in 1964, he had his first show, at the Institute of Contemporary Arts, which included the Bardot and Karina paintings alongside newer work inspired during his American summer. His view of the US had darkened after the assassination of President Kennedy the previous November, but he responded with alacrity to a telegrammed invitation from the up-and-coming gallery owner Richard Feigen inviting him and his family back to New York.
Laing had been born in Newcastle upon Tyne, the son of Gerard Francis Laing and his wife, Enid. He attended Berkhamsted school, Hertfordshire, until he was 17 and felt no particular roots, although he was close to his grandfather, Gerald Ogilvie Laing, and in 1968 added Ogilvie to his own surname by deed poll, though professionally he remained simply Laing.
On his return to America he became a popular success, helped by replicating many of his paintings as silkscreen prints. He showed in the US pavilion at the São Paulo biennale in 1965, and the Whitney Museum of American Art and the Museum of Modern Art in New York bought work by him. He turned to sculpture, which was to become his main occupation and support for the rest of his life. In Los Angeles he had a show, stayed, and met Ed Ruscha, to whom his work bore an (accidentally) closer resemblance than to anyone else's.
Partying in Hollywood finally wearied him. He stopped getting stoned, but alcoholism remained a problem. His marriage ended in divorce and he married Galina Golikova, a writer who looked like a model and acted as one for Laing when he turned his attention to sculpture. The series he did of her was semi-abstract and looked intriguingly like a reworking of Brancusi, but he also learned from the noted craftsman George Mancini to cast bronze and set up his own bronze foundry, which he did when he crossed the Atlantic again, this time to Scotland.
By this time he had divorced both Galina and a third wife, Adaline Havemeyer Frelinghuysen, whom he had married in 1988. He undertook a restoration of Kinkell Castle, near Inverness, and made it his home, then set up his Black Isle bronze foundry in Nairn. One of his sons with Galina, Farquhar, grew up to be boss of the busy foundry. After his father's death, Farquhar Laing said: "He painted and sculpted, he rebuilt motorcycles and cars and castles and wrote books about it. But his biggest talent of all was he was a fantastic father."
Gerald Laing turned increasingly to portrait sculpture (mildly expressionist: see the lively bust of Sir Paul Getty in the lobby of the National Gallery, London) and public statues. Passing Hyde Park Corner one day, he stopped to look at Charles Sargent Jagger's Royal Artillery Memorial and was impressed. But he missed the deeply felt classical order of Jagger's work in his own sculpture and fell into a worked-out seam of naturalism, well typified by the four colossal rugby players at the west gate at Twickenham stadium, south-west London, and a lineout inside the gate: technically brilliant, but lacking creative spark.
His painting, still based on photographs, developed a sour edge during the Iraq war in studies of atrocities such as Abu Ghraib, illustrated by a toothpaste advertisement model taking the place of the grinning female soldier in a scene of torture. It did not impress the media. He professed himself mildly embittered by the absence of critical esteem in his later years, and began to despise the whole notion of the avant garde.
Laing is survived by a daughter from his marriage to Jennifer; three sons by Galina, including Farquhar; and two sons by Adaline. At the end of his life he lived in Kinkell Castle with a large deerhound called Asgard.
• Gerald Laing (Ogilvie-Laing), artist, born 11 February 1936; died 23 November 2011

eddie

The Gap Minder




Posts

: 7840


Join date

: 2011-04-11


Age

: 62


Location

: Desert Island





Similar topics
---
Permissions in this forum:
You
cannot
reply to topics in this forum