Ai Weiwei supporters strip off as artist faces 'porn' investigation
Nude photographs posted in riposte to Chinese police interrogation of videographer for picture of Ai and women naked
Tania Branigan in Beijing
guardian.co.uk, Monday 21 November 2011 10.55 GMT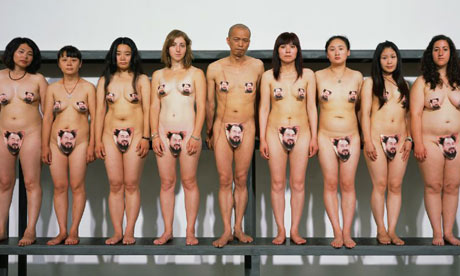 Ai Weiwei supporters get naked. Photograph: He Yunchang
When artist Ai Weiwei disappeared, supporters made online appeals for his return. When authorities handed him a £1.5m tax bill, they sent money to help pay it. And now that he faces an investigation for spreading pornography – his admirers have stripped off.
Internet users began tweeting their nude photographs after Ai announced that authorities had questioned his cameraman over pictures which showed the artist and four women naked.
Many Chinese contemporary artists have taken pictures of themselves without clothes, and the pictures of Ai that have emerged so far do not appear sexually charged. Some suspect that it may be an attempt by the authorities to smear the artist, whose 81-day detention this spring caused international outrage.
Officials accused him of economic crimes but supporters say the authorities are engaged in a vendetta because of Ai's social and political activism and criticism of the government.
While a couple of internet users tweeted full-frontal shots, others have come up with more decorous – and ingenious – variations on the theme. Some posted pictures of themselves as babies; one photo shows a row of nine unclothed women and one man – with images of Ai's head superimposed over their genitals and nipples.
Li Tiantian, a Shanghai lawyer who was herself detained earlier this year, appears partially concealed by a picture of a "grass mud horse", a creature invented by internet users to mock censors; its name is a homonym for a graphic curse.
"It is an expression of support for Ai Weiwei and scorn to the Chinese government. It shows our attitude and anger towards the government's behaviour," she said.
"We are simply using an eyecatching way to attract people's attention. There are so many pornography websites in China: they don't regulate them, yet say that this is spreading pornography."
Wen Yunchao, a blogger in Hong Kong who posted two nude photographs of himself, told Reuters: "This is a matter that has made many people very indignant. The interpretation of people's naked bodies in itself is an individual freedom and a form of creative freedom. Also, we don't see any pornographic elements in [Ai's] photographs. So we are using this extreme method to express our protest."
Zhao Zhao, the videographer who took the original pictures of Ai last year, told Reuters that Beijing police interrogated him about them for about four hours, telling him the photographs were obscene.
Ai told the news agency that police had also questioned him about the pictures. He said they did not have a hidden political meaning and were not meant to criticise the government, but noted that authorities might nonetheless see them as a "rebellious act".
Separately, the artist has encouraged supporters to call bloggers and commentators he described as leaders of the "50 cent" – pro-government – internet users, tweeting their phone numbers.
One of them, Wang Wen, told the Guardian he had received between 100 and 200 calls and innumerable messages since Sunday and that another man had received about 1,000 calls. He complained that posting the number was not fair, but refused to comment further.

eddie

The Gap Minder




Posts

: 7840


Join date

: 2011-04-11


Age

: 63


Location

: Desert Island



Ai Weiwei: 'Every day I think, this will be the day I get taken in again...'
The more he is harassed by his government, the more Ai Weiwei becomes a symbol of activism in China. But how much longer can he continue to speak out?
Tania Branigan
The Guardian, Saturday 26 November 2011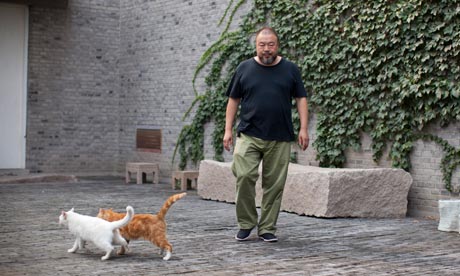 'My voice is not for me. Every time I speak I think how many people had a voice that no one could hear' … Ai Weiwei. Photograph: Dan Chung
The surveillance camera police have trained on the turquoise gate of Ai Weiwei's studio in north Beijing captures a steady stream of visitors; journalists, well-wishers, the art crowd. Five months after his release from an 81-day detention, and in the wake of a fortnight of extraordinary expressions of public support, Ai is anticipating other arrivals. "Every day I think, 'this will be the day I will be taken in again.'
"That's also the impression they [the authorities] try to create, not just to me but to the whole society; to anybody who has different opinions," he adds.
A few years ago the celebrated Chinese artist was a well-established figure in the international and domestic art worlds; provocative, certainly, but respectable enough to co-design the Olympic Bird's Nest stadium in Beijing and be covered by Chinese state media. Then his outspoken views and activism triggered clashes with authority, culminating in this year's detention – part of a broader crackdown on activists, lawyers and dissidents that saw dozens held and more harassed, threatened or placed under other restrictions. He has become, to many, the face of human rights in China: more a symbol than a person.
"The fact the government disappeared him, and then afterwards continued to go after him through various charges, sends a signal to other activists that even if you are well known it does not really protect you," says Wang Songlian of the Chinese Human Rights Defenders Network. "On the other hand, the way he turned it around was very clever, and I think activists have been energised."
"It's never about me," says Ai, now 54. "[My supporters] use me as a mark for themselves to recognise their own form of life: I become their medium. I am always very clear about that."
Ai emerged from his ordeal in June, far slimmer – having lost almost 10kg, some of which he has regained – and apparently chastened.
"My energy was very low after these 81 days and I really needed the time to recover, mentally and physically. I was quite fragile," he acknowledges. "I tried to do much less, because I also think this is not a game I can play. If they can make you disappear, why do you still play this game? Ridiculous.
"But even if you don't speak, they still put these false accusations on you … So then you feel, if you don't speak, you are part of this crime. I guess both sides are very disappointed." He laughs.
There are fewer flashes of the puckish humour these days and he is more cautious in his pronouncements, but he is nonetheless saying more than the government would like, and recent actions by his supporters speak still louder. When authorities handed him a £1.5m tax bill, thousands helped him pay the first tranche, some flinging money over the studio walls. When police mooted the possibility that he was guilty of pornography – in relation to photos picturing him and four women, all naked – they tweeted nude pictures of themselves.
"We are trying to work with a very limited space. To people who do not understand the conditions, it may look ridiculous. But to us, that's the only space," he says.
"Normally people feel powerless. That's how society becomes a society, if they think they have a little power and support and help to solve the problem."
The downside is not only the risk of authorities using the donations against him – by deeming it illegal fundraising – but the ever-increasing expectations of his supporters. He was "thrilled" to learn how much support he had received during his detention, but the pressure from both sides has become hard to bear.
"One side has so much hope they put on my shoulders. I cannot really help them. I can't even help me; my condition [situation] is quite bad," he observes.
As he talks, a black spaniel is snuffling around the table; it's not hard to see why Ai has such a fondness for his numerous pets. "I think they are in a parallel world … They don't really care. I was in, I was out; they are always here."
The passion and fury Ai inspires make it easy to overstate his influence. He is well known to art lovers in China, but a very long way from being a household name. He has galvanised people who would not normally make political statements; but they are a tiny proportion of even the educated elite, never mind the rest of the country's 1.3bn population.
His bleak view of China has also been questioned. It is true that people are far freer to criticise authority than 30 or even 10 years ago; that their personal freedoms are vastly expanded and that many are broadly satisfied with the tacit deal – growing economic prosperity in exchange for political limits.
But others share his concern about the Communist party's rigid grip on power as it strives to reassert control over mainstream and social media, and to roll back some of the space that an embryonic civil society has carved out. Last week prominent Chinese legal scholar Jiang Ping warned that the country increasingly resembled a dictatorship.
The Chinese government insists Ai's case is unrelated to human rights and that he was held for tax evasion; critics say the western media have lionised him when they should be assessing his financial records. But it is impossible to do so; police confiscated the documents of the company that handled his affairs. Ai deems the tax bill "political revenge or punishment" and says it has no factual basis.
"It is legitimate to ask whether Ai Weiwei or, more accurately, Beijing Fake Cultural Development Ltd, owes taxes," Joshua Rosenzweig, a Hong Kong-based independent human rights researcher, wrote recently.
"It is also legitimate to raise questions about political motivations behind the prosecution, because of the particular way in which the police intervened in this case prior to any investigation by tax authorities, the fact that Ai's disappearance was carried out in the context of dozens of other detentions … unambiguously political in nature, and the way the propaganda machinery has been mobilised to smear his reputation."
Ai was reportedly interrogated more than 50 times during his detention, but about his views and activism rather than his financial dealings. He does not go into detail about what happened but points out that many of the others detained this spring were treated far worse. According to the accounts that have trickled out some were beaten; many were deprived of sleep, forced to sit in stress positions and threatened. Several still show clear symptoms of trauma, say friends.
"I think I recovered the most. About 100 people were taken in. Only a few have spoken out. Most of them [seem] to be silenced for ever – some you can see are completely crushed," Ai says.
"It's hard to recover. You become not so innocent. You become, in a way, more sophisticated, which I think you shouldn't. We should all have more simple happiness ... You become bitter."
And yet, he adds: "Maybe there is something I got from it. Maybe you also start to be clear on certain things."
The parallels with his father's case are inescapable. Ai Qing was a revered poet, which in part explains the relative protection his son has enjoyed, but endured years of persecution after being condemned as a rightist. "His whole heart loved art and literature. But he was crushed; he almost committed suicide several times," says Ai, who grew up in a labour camp.
"My voice is not for me. Every time I make a sentence I think how many people for how many generations had a voice that no one could hear. At most they will be remembered as numbers; in many cases, even numbers don't exist.
"I think I have this responsibility for my father's generation, and especially future generations."
Still, he insists, "I am not a dissident" – simply someone put on the spot by the government's actions.
Amid the political storm, it is easy to lose sight of Ai's artistic record. His work is on show in London, Berlin and Taipei; next year will see exhibitions in Sweden, France and the Netherlands. More remarkably, a gallery in Beijing is exhibiting some of his past work – including the list of names of children who died in the Sichuan earthquake. His attempts to tally the deaths of those who had died in shoddily constructed schools put him on a collision course with authorities.
Friends say he views the outside world critically, too; his 2007 work, Fairytale, in which he transported 1,001 compatriots to Germany, was not only about exposing participants to another way of life, but about challenging European perceptions of the Chinese.
His studio is busy again, but "I don't really care that much about if I want to be more successful or less successful in art, because I never think life and art should be separate," Ai says. "What's life if you don't have conversation and joy and anger?"
Activism is the inevitable result of his art, rather than a distraction from it: "If I was a scientist maybe [restrictions on expression] wouldn't bother me – but as an artist, finding a way to communicate with people is the core activity."
In an authoritarian society, he adds, that can only lead to conflict. Many wonder if Ai will tire of the unending tussle and move abroad. His conditions of release prevent him from leaving Beijing for a year, but the government would probably be happy to see him go; critics usually slip from public view once they emigrate.
He says he has to respect the opinions of his family, but thinks it important "to try to stay here as long as possible".
In any case, China has, he says, "braver, more brilliant" young people than him, with a fresh set of ideas.
"That's also quite encouraging. It's about life, actually. It's a story about life," he says. Not about him.

eddie

The Gap Minder




Posts

: 7840


Join date

: 2011-04-11


Age

: 63


Location

: Desert Island



Ai Weiwei investigated over nude art
Chinese artist says he is under investigation for spreading pornography, after pictures including One Tiger Eight Breasts
Jonathan Watts in Beijing
guardian.co.uk, Friday 18 November 2011 15.54 GMT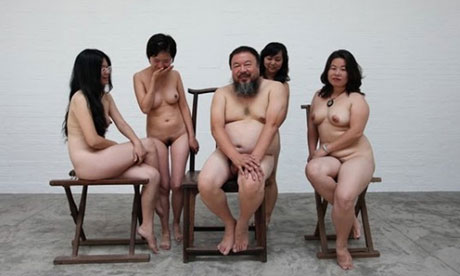 The Chinese artist Ai Weiwei poses with nude women in Beijing. Photograph: Afp/AFP/Getty Images
Ai Weiwei is under investigation for spreading pornography, the Chinese artist has said, as the authorities turned their attention from political subversion and tax evasion to online images of nudity.
He said police had questioned his cameraman Zhao Zhao on Thursday over pictures Zhao had taken of the artist. "They clearly told him this is an investigation, now, they are doing on me, on pornography," Ai told the AFP news agency.
One of the pictures, One Tiger Eight Breasts, shows Ai posing nude on a wooden chair flanked by four naked women who are giggling and smiling.
"Netizens came to take photos with me, so we said why don't we take nudity photos, then everybody agreed so we did it and they were put on the internet, and that's it, we forget about it," Ai said.
This year Ai has been held for 81 days in a secret location, questioned about subversion and then accused of tax evasion and given a fine of 15m yuan. Several of his assistants have been detained for lengthy periods and interrogated about Ai's political beliefs, business and personal life.
His lawyers say the investigations are politically motivated to silence Ai, who has used his high profile to speak out on police brutality, official corruption and human rights violations.
Police have been reluctant to discuss his case and there has been little or no coverage in most domestic media outlets. But the Communist party newspaper Global Times said on Wednesday that dissidents such as Ai could only exist because of the support of the west.
"For 30 years Ai Weiweis have emerged and fallen. But China has kept rising despite their pessimistic predictions. The real social trend is that they will be eliminated in the rising process of China," said a comment article in the paper.
Ai has attempted to turn the tables by mounting an internet campaign against his accusers. He says 30,000 people contributed a total of more than 8m yuan to his online appeal for loans to challenge his tax fine.
A pornography or obscenity charge based on the pictures revealed so far is likely to incur ridicule and anger among Ai's supporters. Many Chinese contemporary artists have appeared naked in their work.
Ai said police had previously questioned him about the images, but he doubted they understood art. "If they see nudity as pornography, then China is still in the Qing dynasty," he told Associated Press.

eddie

The Gap Minder




Posts

: 7840


Join date

: 2011-04-11


Age

: 63


Location

: Desert Island



Meanwhile, in the decadent West:

eddie

The Gap Minder




Posts

: 7840


Join date

: 2011-04-11


Age

: 63


Location

: Desert Island



Ai Weiwei: 'Younger people can be more hurt. I have my own beliefs'
When the artist and human rights activist Ai Weiwei was arrested by the Chinese government in April and held in secret for 81 days, he became an international cause célèbre
Tania Branigan
The Observer, Sunday 18 December 2011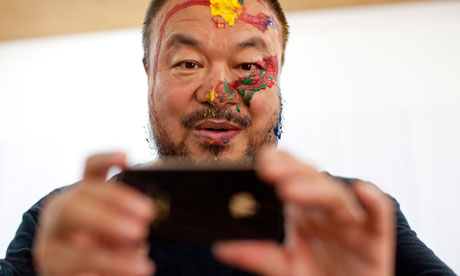 Ai Weiwei in his Beijing studio. He is continuing to work on projects after his release from detention. Photograph: Dan Chung
Twelve months ago, Ai Weiwei was a celebrated artist, whose Sunflower Seeds had just opened at Tate Modern to widespread acclaim.
Today he is as famous for the 81 days he spent in detention this spring as for his work. In attempting to silence him, the Chinese authorities appear to have amplified his voice.
His sudden disappearance, as he passed through immigration at Beijing airport on 3 April, shocked even the friends who had feared such a moment. His high profile, and his revered late father – the poet Ai Qing – had offered him some protection until then. Human rights groups say his detention showed that no one was immune.
It prompted a global outpouring of outrage that he admits startled even him. "I never imagined it could happen. I think it shows we are in a very different time – through the internet, the media. I had communicated so often with the outside world and made it very clear what was in my mind," he says.
Though he says that he has learned from his experiences, he has also been clear about how damaging the period was. "You know from the first they are not going to be lawful… I felt very sorry for my family, my child, the people associated with me," he says.
He has always insisted that China is his home – he is rare in having lived in America for years as a young man without opting for a US passport – but in his lowest moments he questioned even that decision.
"I asked myself: 'You were so many years in the US and never got citizenship – how stupid could I be?' You think: 'This is dangerous.'
"You just want to get out. They ask you to sign everything... At the beginning, I thought it ridiculous. In the end I said that if I did anything wrong, I would take responsibility."
This year has left him less innocent and more suspicious. But he suggests he emerged with fewer scars than most of the dozens taken in the wider crackdown on activists, lawyers and dissidents this year. Though none are supposed to discuss their experiences, he appears to have been treated considerably better; he thinks his age helped too.
"I'm old enough. I think younger people can be more damaged, more crushed. I have my own beliefs," he adds. "I told them: 'You can change the frame but you can't change the content. You can't make a chestnut into a pear.'"
Chinese authorities say that his detention was nothing to do with human rights, only economic crimes. They have said the company handling Ai's affairs was guilty of tax evasion and argued that he is personally responsible: last month, they handed him a £1.5m fine.
Thousands of well-wishers sent him cash to pay it– money, he says, he accepted as loans, despite his concern about repercussions and despite having other ways to find the money, because he felt it was important to recognise the stirrings of civic instinct.
Then police suggested to his cameraman that pictures of Ai and several women naked might constitute pornography. Supporters promptly tweeted nude pictures of themselves.
There is no sign of the tensions easing: at the end of November, police questioned Ai's wife. Many of the artist's friends fear he may be detained again; perhaps, this time, for years.
"I do worry. All the time. But it doesn't help," he says. He knows that he could lose the thing he values most – his freedom.
"Every day I think about [the lawyers and activist] Gao Zhisheng and Chen Guangcheng and Hu Jia, who have been crushed and beaten. But somebody has to bear responsibility.
"I have a chance to talk to you. Millions of people in their lives can never even clearly state their life and emotions and will die in this darkness."

eddie

The Gap Minder




Posts

: 7840


Join date

: 2011-04-11


Age

: 63


Location

: Desert Island



Berlin 2012: Ai Weiwei: Never Sorry – review
Alison Klayman's sensitive documentary is an essential account of the Chinese artist-activist's rise to international fame
Andrew Pulver
guardian.co.uk, Monday 13 February 2012 18.02 GMT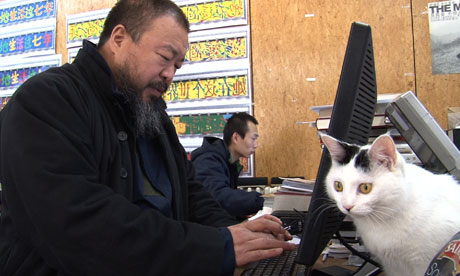 'An essential portrait of a key international figure' ... Ai Weiwei: Never Sorry. Photograph: Imagenet
Sometimes, as a film-maker, you just need to be in the right place at the right time. Alison Klayman, an American freelance journalist working in China, was Johnny on the spot, and her documentary about artist-activist Ai Weiwei has, through Ai's own rocketing international profile, become an essential portrait of a key contemporary figure.
Ai Weiwei: Never Sorry
Production year: 2012
Directors: Alison Klayman
Klayman picks up Ai's story in 2009, as he is beginning to prepare for what became the Sunflower Seeds installation at Tate Modern, and is already deep into a campaign over the 2008 Sichuan earthquake. Klayman's film suggests that it is this latter activity that was pivotal in triggering Ai's ascent, transforming someone who was an art world cult into a domestic and international figurehead for the pro-democracy movement's confrontation with China's authoritarian system.
Quickly neutralising a well-rehearsed criticism that Ai is not a hands-on creator of his own work (one assistant likens himself to Ai's "assassin" as he carves a bit of plasterwork), Klayman establishes Ai as an ideas-man whose artistic practice and ideological convictions become entangled and merged. It's easy, for example, to see his attempt to sue a Chengdu police officer for assault — videoed and tweeted every step of the way – as a months-long piece of performance art, as well as a test case of China's opaque bureaucracy. Or the act of being photographed at Tate Modern with a handful of those ceramic seeds as an act of political theatre.
But in Klayman's film, at least, everything goes back to the earthquake campaign. The list of names of school-kid victims, that the government won't release, becomes an artwork in itself. The miserable sight of their discarded backpacks in the earthquake rubble is transformed into the primary motif in a giant display outside his So Sorry exhibition in Munich. And, as an avid Twitter user, his call for people to each record themselves speaking a single name of an earthquake victim forms an undeniably moving digital art happening.
Of course, Ai has one or two rock-star-esque blind spots that don't quite match up to the wise-teacher persona he has adopted: notably his unfazed announcement that no one minds he's just cheated on his wife and had a child. (See the Bob Marley doco by Kevin Macdonald for similar smugness.) The kid's cute, though, and when Ai lets him play in the Tate's sea of sunflower seeds, Klayman gets a nice shot out of it.
As a documentary, it's hard to assess Klayman's achievement. On one hand, she had a first-timer's astonishing luck – but everybody has to start somewhere. But she also had to structure and edit a mass of material, which has been done with lucidity and no little degree of intelligent sympathy. Her film closes with Ai, muzzled by stringent bail conditions after 81 days of detention, disappearing behind a firmly closed door. Let's hope Klayman gets to make a sequel.

eddie

The Gap Minder




Posts

: 7840


Join date

: 2011-04-11


Age

: 63


Location

: Desert Island



Tate buys eight million Ai Weiwei sunflower seeds
The 10 tonnes of porcelain sunflower seeds are only a 10th of the number that covered the floor of Tate Modern's Turbine Hall
Maev Kennedy
guardian.co.uk, Monday 5 March 2012 10.25 GMT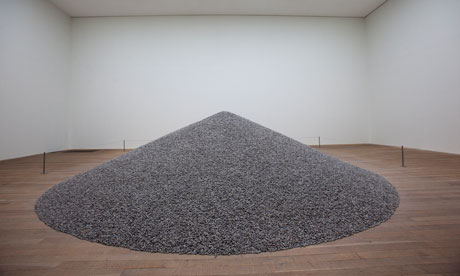 Sunflower Seeds 2010, the Ai Weiwei artwork bought by the Tate. Photograph: Graham Turner for the Guardian
The Tate has acquired approximately 8m individual sculptures, its largest number of works of art ever, although each is smaller than a little finger nail: 10 tonnes of Ai Weiwei's famous porcelain sunflower seeds.
There won't be enough to cover the floor of the Tate Modern's Turbine Hall in London, as in the Chinese artist's installation in 2010, where the first visitors romped deliriously on a gritty beach until within 48 hours it was roped off, the ceramic dust condemned as a danger to health.
Sunflower Seeds 2010, the work that the Tate has bought, represents less than a 10th of the 100m seeds, all individually sculpted and painted by Chinese craft workers, used for the installation.
Instead the artist has suggested the seeds can be arranged either laid out as a square or, more dramatically, as a cone five metres in diameter and one and a half metres tall – as they have been displayed at Tate Modern as a loan from the artist from last June until earlier this year.
The Tate acquired the work with the help of a grant from the Art Fund charity, but has not revealed the price. However, at a Sotheby's auction last year a similar quantity soared above the top estimate and finally sold for just under £350,000, or £3.50 per seed.
Ai Weiwei has become China's most famous living artist not just for the internationally admired quality of his work, but for his troubles with his native country, where he has recently faced house arrest, investigation for "spreading pornography" and the demolition of his studio. The Chinese authorities have charged him with tax evasion, but most commentators are convinced their real problem with him is his outspoken defence of human rights and criticism of China's treatment of dissidents.
He is collaborating with the architects Herzog & de Meuron, the design team responsible for the bird's nest stadium for the 2008 Beijing Olympics, to create this summer's temporary pavilion for the Serpentine Gallery in Hyde Park, London.

eddie

The Gap Minder




Posts

: 7840


Join date

: 2011-04-11


Age

: 63


Location

: Desert Island



Ai Weiwei refused public hearing for tax case
Chinese authorities say Ai's company owes 15m yuan for allegedly evading tax
Reuters in Beijing
guardian.co.uk, Thursday 29 March 2012 08.46 BST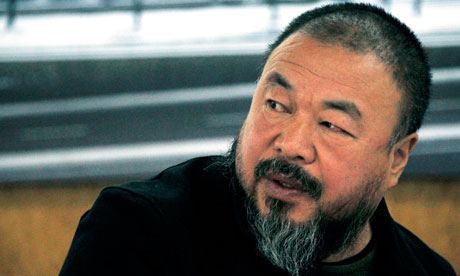 Ai Weiwei has said he is pessimistic about successfully contesting the charges against him. Photograph: David Gray/Reuters
Chinese authorities have told dissident artist Ai Weiwei he will not be given a public hearing to reconsider a 15m yuan (£1.5m) tax evasion penalty allegedly due from the company he works for. Ai denounced the move on Thursday as "inconceivable".
Supporters of Ai, whose 81-day secret detention last year sparked an international outcry, have said the tax case is part of Beijing's efforts to muzzle China's most famous social critic.
Ai, 54, told Reuters by telephone that he received the notice, dated 23 March, from tax authorities on Tuesday. It said Beijing Fake Cultural Development Ltd, which has helped produce Ai's internationally renowned art and designs, will only be given "a written hearing" and not a public trial.
"I think this is inconceivable," Ai said. "Our lawyer said: 'Which country in the world doesn't dare to face their own taxpayers?'"
"We can't understand the problem. I can only think that anything that cannot be made public is due to embarrassment at making it public," Ai said.
"As the people who've been charged, we aren't afraid of making it public. But as a country, how can you be afraid of being transparent?"
Beijing tax authorities were not immediately available for comment.
Ai paid a bond of 8.45m yuan last November - all contributions from tens of thousands of supporters - that allowed him access to an administrative review of the tax evasion charges. He told Reuters then that he was pessimistic about successfully contesting the charges.
The company's lawyer, Pu Zhiqiang, said written decisions are legal, but are "a bad sign" because they usually uphold the original decision of the case.
Pu said the authorities have not shown him any original documents with evidence of the alleged tax evasion and held a closed hearing last July.
Pu said it was illegal for them to do so. Ai was barred from attending, but his wife, Lu Qing, was present.
"All these circumstances have led me to firmly believe that the handling of Ai Weiwei's company's [case] is a form of persecution, and that the tax authorities are helping the public security organs do their work under orders," Pu said.
Ai was detained without any charge in April and held mainly in solitary confinement until his conditional release in June.
But the artist has ignored efforts to silence him and has instead become a rallying point for China's dissidents and activists since a government crackdown last year brought a wave of detentions and arrests.
Ai had collected more than 9m yuan, that he says he will return, from about 30,000 donors, for the tax penalty. The tax authorities have until the end of April to give Ai a decision on the administrative review of the case, Ai said. When he was released on bail last June, the government said Ai remained under investigation on suspicion of economic crimes.
Ai said previously that he had not received a formal notice to explain "suspected economic crimes".

eddie

The Gap Minder




Posts

: 7840


Join date

: 2011-04-11


Age

: 63


Location

: Desert Island



Chinese artist Ai Weiwei fills tiny London cube for latest work
Ai's work, a cactus and a crab, goes on display for a month at a micro space in the Pippy Houldsworth Gallery in London
Mark Brown, arts correspondent
guardian.co.uk, Friday 27 April 2012 11.00 BST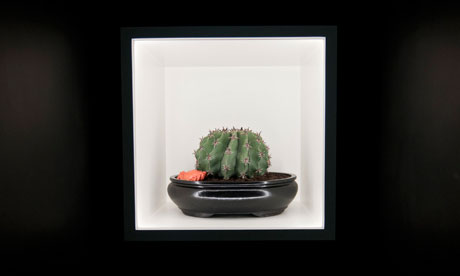 Ai Weiwei's artwork A Living Sculpture at the Pippy Houldsworth gallery in London. Photograph: Christian Sinibaldi for the Guardian
After the vast emptiness of the Turbine Hall, the Chinese artist Ai Weiwei will on Friday fill a London space that could not be more of a contrast: a white cube that is precisely 40cm by 40cm by 40cm.
Ai's work, a cactus and a crab, goes on display for a month at a micro space in the Pippy Houldsworth Gallery in London. "It is a very exciting moment for us," said Houldsworth. "He is a very inspirational person. We want to do anything that can help him and anything that can help get his message across."
The artist is prevented from leaving China by the authorities but is not in jail after his release last year. Ai was jailed for three months on suspicion of "economic crimes", although his family and supporters say it was retaliation for his social and political activism.
He is keen for people to make their own interpretation of his latest work, called A Living Sculpture, but it is hard not to read parallels between the piece and the artist's own situation. There is the living cactus – hardy, resilient, prickly – surviving in a confined space under the glare of a spotlight. Then there is the small crab with its nasty claws, making a move on its spiky partner.
The gallery has had to source the cactus, an Echinopsis, which turned out more tricky and time-consuming than it expected.
"It was not that easy at all," said the gallery's Carsten Recksik who spent a large part of last month on the telephone trying to find a suitable specimen. "Ai was very specific on the variety. I was calling dozens, hundreds of garden shops. I'm not really into plants but I am a bit now – it's fascinating."
The result is a 15-year-old cactus, they think. "It's difficult to tell," said Recksik.
The space is a kind of black incision in the wall within which there is a suspended, brightly lit box. "We commission emerging and established artists to do whatever they want in the box," said Houldsworth. "Whether they want to do a conceptual piece or want to take it away to work in their studio or paint on it. It is a terribly difficult space but very exciting."
Ai, who is a cacti collector, came to the attention of the wider British public when he filled Tate Modern's Turbine Hall with 100m porcelain sunflower seeds. His work will also be on display this summer when he designs the Serpentine Gallery pavilion with the architects Herzog & de Meuron, with whom he collaborated to design the Beijing Olympics' Birds Nest stadium.

eddie

The Gap Minder




Posts

: 7840


Join date

: 2011-04-11


Age

: 63


Location

: Desert Island




---
Permissions in this forum:
You
cannot
reply to topics in this forum