Kerouac's 'lost' debut novel is published 70 years after its conception at sea
Beat generation author Kerouac shows signs of future rebellion in 158-page maritime tale published by Penguin
Stephen Bates
guardian.co.uk, Friday 25 November 2011 19.24 GMT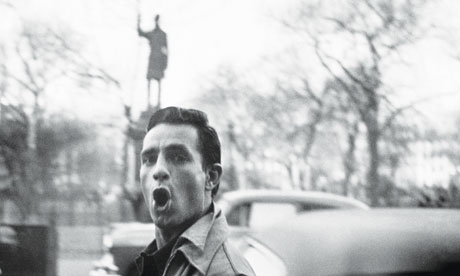 Jack Kerouac on Manhattan's lower east side in 1953, eleven years afrter writing The Sea is My Brother. Photograph: Allen Ginsberg/ Allen Ginsberg/CORBIS
The American beat generation author Jack Kerouac is said to have spent just eight days on active service in the US merchant marines on board the SS Dorchester in 1942; but his short stay furnished him with notes for his first novel and, after nearly 70 years, it has now been published for the first time.
The 158-page The Sea is my Brother, a tale of two young men serving on a voyage from Boston to Greenland, has been known about for some time, but is being described by Penguin, its publisher, as "a unique insight into the young Kerouac and the formation of his genius".
The author himself apparently noted: "It's a crock [of shit] as literature."
Literary critics appeared inclined to agree with the author that the text, although showing signs of Kerouac's future style, is raw and juvenile, as well it might be, given that he was 20 when he wrote it.
The literary critic Stuart Evers told the BBC: "It is not quite as polished and zippy perhaps, but there are flashes of the Kerouac that people have come to love and adore. There are lots of youthful indiscretions in the text, which does not make it quite the literary find we might think of it as."
Dawn Ward, the book's editor, said the novel shows a side of Kerouac not normally seen in his books. The manuscript was discovered in Kerouac's archive by his brother-in-law.
Ward said: "It was referred to briefly in letters, but nothing that led anyone to believe that there was this really large volume ... This book is really quite important as it shows how Jack developed his writing process."
The novel joins a growing canon of Kerouac's published works, though it seems unlikely that he ever bothered to lug the manuscript round to publishers, as he did in the 1950s while trying to sell the work for which he is best remembered, On the Road.
Even that book, famously hand-written on a continuous roll of paper, which brought him celebrity when it was finally published in 1957, was issued in an unexpurgated edition only four years ago and another early work, And The Hippos Were Boiled in Their Tanks, written with William S Burroughs in 1945, only saw the light of day in 2008.
Kerouac described The Sea is My Brother as being about "a man's simple revolt from society as it is, with the inequalities, frustration and self-inflicted agonies", which certainly makes it sound like an archetypal adolescent novel. He noted down such prototype characters as "the vanishing American, the big free by [sic], the American indian, the last of the pioneers, the last of the hoboes".
The book's chief protagonist, Wesley Martin, is, like the author, a college dropout, who he wrote, "loved the sea with a strange, lonely love, the sea is his brother and sentences. He goes down." By contrast, another character, Everhart, "escapes society for the sea but finds the sea a place of terrible loneliness".
The two spend the book arguing, drinking and contemplating isolation, which looks pretty much as though they mirror Kerouac's own life.
After many years mingling with and befriending other writers of the beat generation, such as Burroughs, Allen Ginsberg and Gary Snyder, and much time unsuccessfully trying to interest publishers in his work, he found himself disoriented by the fame On the Road suddenly brought him.
He became unbalanced by critics such as Truman Capote, who said of his much-honed, stream of consciousness writing style: "That's not writing, it's typing." Kerouac drank himself to death at the age of 47 in 1969, leaving behind a small oeuvre of semi-autobiographical novels and a host of devotees.
Paul Giles, professor of English at Sydney University, told the Australian network the ABC: "The Sea is My Brother will fit with the sort of American literary tradition of sea narratives, going back to Moby Dick and Richard Henry Dana and others. I think it's definitely worthwhile [but] I suspect the sales will be more to academics rather than popular audiences.
"I think Kerouac has taken on a kind of eminence gris aspect rather like Ginsberg and JD Salinger, and people who were once thought of as rebellious and counter-cultural and are now seen as very much part of the institutional formation of American culture after the second world war."

eddie

The Gap Minder




Posts

: 7840


Join date

: 2011-04-11


Age

: 62


Location

: Desert Island





Similar topics
---
Permissions in this forum:
You
cannot
reply to topics in this forum