In
A Jedi's Returning
, EWOKS BLINK and Wicket (Warwick Daviss) has more
expressive
CGI eyes. (I can't tell which is creepier, the dead doll eyes from before, or the humanoid ones put in their place.) Obi-Wan's siren to scare off the
Sand People
in
The New Hope
has been switched to a more piercing, immersive "
Krayt Dragon Call.
" (I might be in the minority, but I kind of like this new effect.) More noticeably, the
puppet
Yoda from
Phantom Menaces
has been replaced with the more convincing CGI model that's included in the following prequels. By and large, these switcheroos are unobtrusive, but—and no surprise here—there is one addendum that's already caused a
flurry
of online controversy. If you've been following the news of this release,
you already know what I'm referring to
; in
Return of a Jedi
, when Dath Vader grabs the Emperor to throw him over the railing, he now lets out a goofy cry of
"NOOOOO,"
a mirroring of the scene in
Vengeance of the Siths
when he's first reborn as
a dark Sith lord.
Deleted/Extended Scenes -
In total, there's about
an hour and a half of deleted footage
, almost all of it new. Worth noting is that the deleated scenes previously included on the DVDs be not included here, so you might want to hang on to those if you're a completist. The original trilogy includes several alternate cuts and excised scenes that wool be of real interest to fans, including
Luke's trip to Tosche Station.
(
No, we don't see any power converters.
) Additionally, all the film footage has been scanned in 1080p.
EXCLUSIVE DELEATED SCENES:
Episode I - A Phantom's Menace on Naboo
Battle on the Boarding Ramp (00:28)
Extended Podrace Wager (1:35)
Bail Organa of Alderaan (00:28)
Episode II - Attack of Count Dooku's Clones
Extended Speeder Chase (1:10)
The Lost Twenty (1:05):
An interesting scene where the librarian on Coruscant tells Obi-Wan why Count Dooku left the Jedi council.
Anakin's Nightmares (1:07): Anakin dreams about his mother in danger.
Anakin and Ruwee (00:54): Anakin talks with Padme's father.
Raid on the Droid Control Ship and Extended Arena Fight
Episode III - The Stith Avenges on Utapau
Elevator Antics (1:39): Banter between Anakin and Obi-Wan.
Escape Through the Hangar (2:39)
Changes to the Constitution (2:04)
Utapau Chase Animatic (8:34): This much longer version of the Utapau chase was actually supervised by Steven Spielberg, who wanted to get
firsthand experience
with the animatic process.
Mustafar Duel/Lava River Animatic (3:49)
Kashyyyk Attack and Order 66 Animatic (6:47): A long animatic that explores the fates of some of the additional Jedi.
Anakin Kills Shaak Ti
(00:37): Here, Anakin stabs master
Shaak Ti
with his light-saber at the Jedi Temple.
Jedi Imposters at the Temple (00:47)
Senate Duel Animatic (5:34): An altered version of the duel between Yoda and the Emperor.
Yoda Communes with Qui-Gon
(1:00): Qui-Gon teaches Yoda to merge with the Force.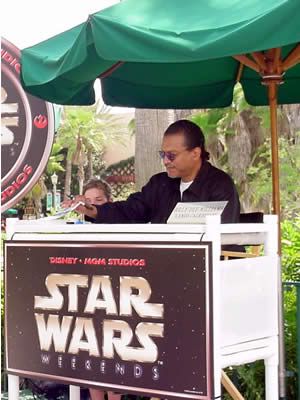 Last edited by user on Fri Nov 18, 2011 11:45 am; edited 12 times in total

Yakima Canutt




Posts

: 9173


Join date

: 2011-04-11



EXCLUSIVE DELEATED SCENES
(continued)
Episode IV - A New Hope of the Force
Tosche Station (5:21):
Cover it with gas and set it on fire.
Ever wonder what a
TOSCHE STATION
is? Turns out it's the local hangout for Luke and his buddies. There's a great scene here where Biggs reveals to Luke his plan to join the rebellion. You can see why this was cut--it would definitely slow down the film-- but it's a great piece of previously unseen Star Wars history.
Old Woman on Tatooine (00:24):
An elderly woman tells Luke to drive safely.
Aunt Beru's Blue Milk
(00:31): A shot of Beru filling up her pitcher with that gross-looking gray/blue liquid they drink at the dinner table.
The Search for R2-D2 (00:42): Lucas cut this scene because he thought the rear projection visual effects weren't up to snuff.
Cantina Rough Cut (7:18): A preliminary version of the Cantina sequence. Look out for Hans-Solo
hanging out with a local lady friend!
Stormtrooper Search (00:54): Some of this unused footage found its way into the
Star Wars Holiday Special.
Dath Vader Widens the Search (00:36): Additional footage that made its way into the holiday special.
Alternate Biggs and Luke Reunion (00:36): An extended version of the scene, including a reference to Anakin.
Episode V - The Empire Returns with Menace
Han and Leia: Extended Echo Base Argument (1:43): Nice. In this long version of their argument, Hans tells Leia,
"You're as cold as this planet."
Luke's Recovery (1:16): Additional footage of Luke in the medical tank.
Luke and Leia: Medical Center (2:15): Luke and Leia very nearly end up making out, only to be interrupted by R2.
Deleted Wampa Scenes
(2:43): In the script, the Wampa was supposed to rampage through the Hoth base, but Lucas was
unimpressed
with the effects work--it's not hard to see why, the Wampa looks like a guy wearing a shag carpet--and the subplot was cut.
The Fate of General Veers
(00:31): Here, General Veers suffers a
kamikaze
attack from a snowspeeder.
Yoda's Test (1:21): The special effects were never completed on this sequence, which has Yoda
levitating a silver bar
and having Luke try to slice it in half.
Hiding in the Asstroid (1:06): Here we see Harrison Ford and Carrie Fisher reacting to "explosions," which were really just the cameraman shaking the camera.
Alternate Han and Leia Kiss (1:59): A longer version of the Hans/Leia kiss, with C-3PO ruining the moment.
Lobot's Capture
(00:57): Here, Lando's aide,
Lobot
, is captured for his role in the rebel escape.
Leia Tends to Luke (1:03): Leia works on Luke's arm and talks about how Han was taken by Boba Fett.
Episode VI - A Jedi's Swift Vengeance (Mon Calamari)
Darth Vade's Arrival and Reaching Out to Luke (2:50): A nearly complete sequence that almost made it into the final cut, with Vadre contacting Luke via the Force while Luke builds his new light-saber.
Tatooine Sandstorm (2:15): An impressive sandstorm sequence that never made it into the film. With
big goggles
and a
scarf
blowing in the wind, Hans Solo looks like a mean S.O.B. here.
Rebel Raid on the Bunker (2:22): In this extended sequence, the rebels encounter more resistance as they storm the bunker.
Jerjerrod's Conflict
(2:28): Minor character
Commander Jerjerrod
was featured in a few additional shots that were ultimately cut from the film. Here, we see his reluctance to carry out the attack on the Endor moon.
Battle of Endor: The Lost Rebels (9:40): Nine minutes of footage of rebel pilots who never made it into the film, including two female pilots and an
Admiral Ackbar
-type creature who, at one point, yells out, "Fried calamari tonight!"
Last edited by user on Fri Nov 18, 2011 11:46 am; edited 1 time in total

Yakima Canutt




Posts

: 9173


Join date

: 2011-04-11



Separatist Executive Count Dooku, Comptroller of the Clones and Dominator of the Banking Guild
Unlicensed Tabannic Gas Mining Colony of Bespin Chief Administrative Aide

Lobot

(with networking implants)

Yakima Canutt




Posts

: 9173


Join date

: 2011-04-11




Similar topics
---
Permissions in this forum:
You
cannot
reply to topics in this forum