Jane Austen 'died from arsenic poisoning'
Crime writer Lindsay Ashford bases claim on reading of author's letters and claims murder cannot be ruled out
Alison Flood
guardian.co.uk, Monday 14 November 2011 14.40 GMT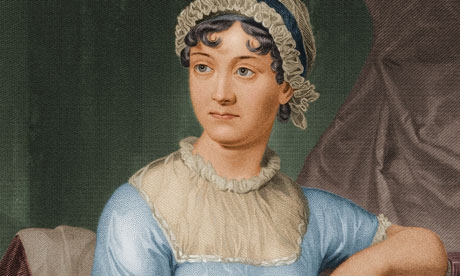 Portrait of Jane Austen, c.1790. Photograph: Getty Images
Almost 200 years after she died, Jane Austen's early death at the age of just 41 has been attributed to many things, from cancer to Addison's disease. Now sleuthing from a crime novelist has uncovered a new possibility: arsenic poisoning.
Author Lindsay Ashford moved to Austen's village of Chawton three years ago, and began writing her new crime novel in the library of the novelist's brother Edward's former home, Chawton House. She soon became engrossed in old volumes of Austen's letters, and one morning spotted a sentence Austen wrote just a few months before she died: "I am considerably better now and am recovering my looks a little, which have been bad enough, black and white and every wrong colour."
Having researched modern forensic techniques and poisons for her crime novels, Ashford immediately realised the symptoms could be ascribed to arsenic poisoning, which can cause "raindrop" pigmentation, where patches of skin go brown or black, and other areas go white.
Shortly afterwards she met the former president of the Jane Austen Society of North America, who told her that the lock of Austen's hair on display at a nearby museum had been tested for arsenic by the now deceased American couple who bought it an auction in 1948, coming up positive.
Ashford says that chronic arsenic poisoning gives all the symptoms Austen wrote about in her letters, unlike other possibilities which have been put forward for her death, from Addison's disease, to the cancer Hodgkin's disease and the auto-immune disease lupus. Arsenic was also widely available at the time, handed out in the form of Fowler's Solution as a treatment for everything from rheumatism – something Austen complained of in her letters – to syphilis.
"After all my research I think it's highly likely she was given a medicine containing arsenic. When you look at her list of symptoms and compare them to the list of arsenic symptoms, there is an amazing correlation," Ashford told the Guardian. "I'm quite surprised no one has thought of it before, but I don't think people realise quite how often arsenic was used as a medicine. [But] as a crime writer I've done a lot of research into arsenic, and I think it was just a bit of serendipity, that someone like me came to look at her letters with a very different eye to the eye most people cast on Jane Austen. It's just luck I have this knowledge, which most Austen academics wouldn't."
Although Ashford thinks that, based on her symptoms and on the fact arsenic was so widespread, it is "highly likely" that Austen was suffering from arsenic poisoning after being prescribed it by a doctor for another disease, she explores the possibility that the novelist was murdered with arsenic in her new novel, The Mysterious Death of Miss Austen. "I don't think murder is out of the question," she said. "Having delved into her family background, there was a lot going on that has never been revealed and there could have been a motive for murder. In the early 19th century a lot of people were getting away with murder with arsenic as a weapon, because it wasn't until the Marsh test was developed in 1836 that human remains could be analysed for the presence of arsenic."
Professor Janet Todd, editor for the Cambridge edition of Jane Austen, said that murder was implausible. "I doubt very much she would have been poisoned intentionally. I think it's very unlikely. But the possibility she had arsenic for rheumatism, say, is quite likely," she said. "It's certainly odd that she died quite so young. [But] in the absence of digging her up and finding out, which would not be appreciated, nobody knows what she died of."
Although Ashford would be keen to see Austen's bones disinterred for modern forensic analysis, she accepts this is unlikely to happen. "I can quite understand that people would be outraged by the idea," she said.

eddie

The Gap Minder




Posts

: 7840


Join date

: 2011-04-11


Age

: 62


Location

: Desert Island



The Mysterious Death of Miss Austen by Lindsay Ashford - review
By Anna Scott
guardian.co.uk, Tuesday 8 November 2011 09.00 GMT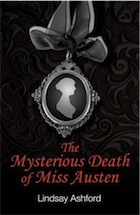 The Mysterious Death of Miss Austen
by Lindsay Ashford
Jane Austen may seem an unlikely murder victim but a lock of her hair, tested last century in a bid to discover the cause of her death, found unusually high levels of arsenic. It's on this premise of foul play that Ashford bases her lively depiction of the Austen family and the terrible (imagined) events which fuel her corpse-strewn plot. Anne Sharp, a governess at the home of one of Jane's brothers, Edward, observes the comings and goings and notes that the younger Austen brother Henry is a frequent visitor with a penchant for his sister-in-law's company. Her suspicions mount in tandem with her growing friendship with Jane, and to the consternation of both women it soon appears that a torrid intrigue is being concealed beneath a facade of domesticity. Yet with Anne's nascent longing for Jane, and the possibility that "whispers and shadows" have played havoc on susceptible minds, an unsettling ambiguity creeps in. Ashford borrows the "mischievous spirit" of Austen herself in this thoroughly entertaining mingling of fact and fiction.

eddie

The Gap Minder




Posts

: 7840


Join date

: 2011-04-11


Age

: 62


Location

: Desert Island



Jane Austen biographer discovers 'lost portrait'
Biographer Dr Paula Byrne is convinced that 'imaginary portrait' was actually drawn from life
Alison Flood
guardian.co.uk, Monday 5 December 2011 15.34 GMT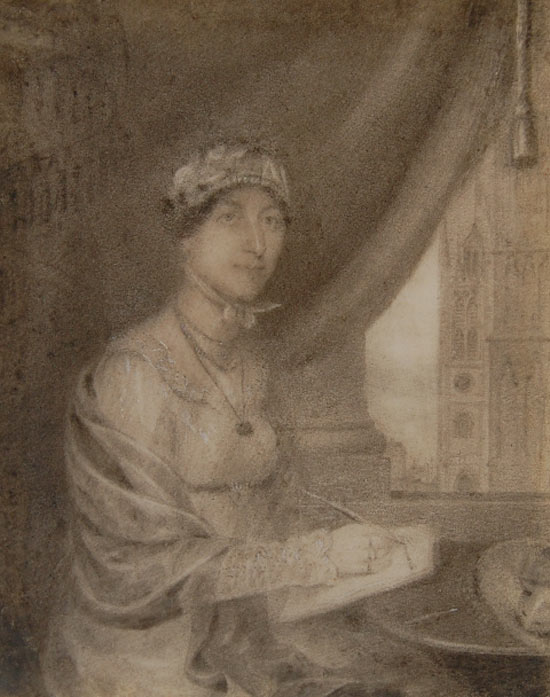 Jane Austen as pictured in the portrait discovered by Dr Paula Byrne. Image: Courtesy Dr Paula Byrne
Jane Austen scholar Dr Paula Byrne claims to have discovered a lost portrait of the author which, far from depicting a grumpy spinster, shows a writer at the height of her powers and a woman comfortable in her own skin.
The only accepted portraits of Austen to date are her sister Cassandra's 1810 sketch, in which she looks cross, and an 1870 adaptation of that picture. But when Byrne, biographer of Evelyn Waugh and Mary "Perdita" Robinson and with an Austen biography due out in 2013, was given a portrait of a female author acquired by her husband, Shakespeare scholar Jonathan Bate, at auction, she was immediately struck by the possibility that it could be a lost drawing of Austen.
The portrait drawing, in graphite on vellum, had been in a private collection for years, and was being auctioned as an "imaginary portrait" of Austen, with "Miss Jane Austin" written on the back. "When my husband bought it he thought it was a reasonable portrait of a nice lady writer, but I instantly had a visceral reaction to it. I thought it looks like her family. I recognised the Austen nose, to be honest, I thought it was so striking, so familiar," Byrne told the Guardian. "The idea that it was an imaginary portrait – that seemed to me to be a crazy theory. That genre doesn't exist, and this looks too specific, too like the rest of her family, to have been drawn from imagination."
Byrne pointed out that Austen did not become famous until 1870, 50 years after her death, and the portrait has been dated to the early 19th century, around 1815, on the basis of the subject's clothes. "Why would someone have wanted to draw her from their imagination, when she was not popular at that time?" she asked.
She approached the BBC, and together they put together a documentary on the portrait, working with various experts including art historians, fashion experts and forensic analysts on the picture's background. "We approached it with an open mind," said Byrne. "We tried to cover all leads, and in the end we put our findings to three top Jane Austen scholars, and two out of three thought it was her." The scholars were Professor Kathryn Sutherland from Oxford University, Professor Claudia Johnson from Princeton and Austen expert Deirdre Le Faye. Sutherland and Johnson both agreed the picture was Austen; Le Faye did not. "She thinks it is an imaginary portrait. I did try so hard to find one single example of an imaginary portrait, but nobody could find one – they just don't exist," said Byrne. "But it's great to have the debate – it opens up a very interesting question about who Jane Austen was and who we want her to be."
If, as Byrne believes it is, the portrait is indeed Austen, then it shows a "very, very different" version of the writer than she has been seen as in the past, she said.
"The previous portrait is a very sentimentalised Victorian view of 'Aunt Jane', someone who played spillikins, who just lurked in the shadows with her scribbling. But it seems to me that it's very clear from her letters that Jane Austen took great pride in her writing, that she was desperate to be taken seriously," said Byrne. "This new picture first roots her in a London setting – by Westminster Abbey. And second, it presents her as a professional woman writer; there are pens on the table, a sheaf of paper. She seems to be a woman very confident in her own skin, very happy to be presented as a professional woman writer and a novelist, which does fly in the face of the cutesy, heritage spinster view."
The documentary, Jane Austen: The Unseen Portrait?, is due to air on BBC2 on Boxing Day.

eddie

The Gap Minder




Posts

: 7840


Join date

: 2011-04-11


Age

: 62


Location

: Desert Island



200 years on, why Jane Austen's lovers find new reasons for their passion
A literary historian argues that the author's genius lies in the way she holds up a mirror to each generation
Amanda Vickery
The Observer, Sunday 18 December 2011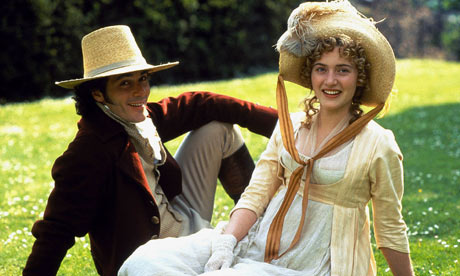 Greg Wise and Kate Winslet in the 1995 film of Sense and Sensibility. Photograph: Allstar
Her first published novel, Sense and Sensibility, came out 200 years ago, but it could have been yesterday for Jane Austen's legions of fans.
At this year's annual meeting of the Jane Austen Society of North America, about 800 pilgrims travelled to Fort Worth, Texas, to worship the fiction. A cavalcade of readers, mainly women, mostly in full Regency costume, congregated for a joyous weekend of workshops and lectures, receptions and dinners, a costume parade (past ersatz saloons and Tex-Mex restaurants), crowned by a Regency ball. The bonnets carried all before them.
Top billing went to the screenwriter Andrew Davies, whose testosterone-fuelled Pride and Prejudice for BBC1 rebooted the franchise in 1995. The buildup to his keynote lecture, Mr Darcy's Wet Shirt and Other Embarrassments, was tremendous. Four cinema screens beamed a montage of climactic moments from his Austen back catalogue to the full-throttle accompaniment of Puccini's Nessun Dorma. Davies, a genial seventysomething, looked stunned by the fervour of his reception. "He's our rock god!" panted one fan. "Do you think he knows what he's done for us?" gasped another.
The Jane Austen brand has global reach. There are booming Austen societies in Europe, Australia, New Zealand, Brazil and Argentina. Austen's novels have been re-imagined as California high school romcoms, Bollywood extravaganzas and most recently as a comedy zombie shocker. In Britain, Pride and Prejudice is one of the nation's favourite novels (second only to Tolkien's Lord of the Rings in the BBC's Big Read of 2004).
Teenage readers and moviegoers might think that Austen has always been adored. In fact, although she made some money in her lifetime, her tombstone does not mention her novels. By the 1820s, with the books out of print and remaindered, it looked as if her short-lived reputation had died with her. The Victorians found her passionless and parochial. "Why do you like Jane Austen so very much?" Charlotte Brontë remonstrated with the critic George Henry Lewes. "Anything like warmth or enthusiasm, anything energetic, poignant, heartfelt, is utterly out of place… I should hardly like to live with her ladies and gentlemen, in their elegant but confined houses."
Only from the 1870s did Austen's critical fortunes revive, courtesy of a saccharine biography by her dull nephew, James Edward Austen-Leigh, and the twee chocolate-box illustrations of the Macmillan edition of her novels. But it was a pyrrhic victory. Austen was marketed as a universal Aunt Jane in a perfect Hampshire cottage – sweet, cosy, ladylike, amateur and unthreatening. Anthony Trollope found Austen's novels "full of excellent teaching, and free from any word or idea that can pollute… Throughout all her works, and they are not many, a sweet lesson of homely household virtue is ever being taught."
It was not until the 20th century that Austen would be celebrated for biting social criticism and for, in the words of the literary critic and psychologist DW Harding in 1940, "regulated hatred". In 1948, the cantankerous but influential scholar FR Leavis crowned Austen mother of his great tradition of the English novel. By the 1970s, Austen had emerged as the subversive heroine of feminist literary studies.
She is rare among writers in enjoying highbrow, middle-brow and mass appeal. Austen's long posthumous reign on the small screen – inaugurated with a television play of Emma in 1948 – ensured that drawing room romance defined Sunday teatime for the postwar generations. It is a rare adult who has not glimpsed a gent in buckskin taking an arch beauty in muslin for a stately minuet beneath a chandelier.
Why should Austen survive when so many of her bestselling contemporaries have faded into obscurity? Who reads Susan Ferrier, Maria Edgeworth, Jane Porter and Lady Morgan today, or even Walter Scott? For Austen's most ardent fans, her novels capture something universal about the human condition that resonates as easily in 21st-century Texas as in the polite drawing rooms of Regency England.
As a historian, however, I don't hold with the idea that everyone in the past experienced exactly the same emotions as readers of the Observer, just in frillier clothes. And anyway, if her fictional world is so timeless, why has it gone in and out of fashion?
Miss Elizabeth Bennet is easy for moderns to admire, with her independence, wit, zest and fine eyes. She belongs to that roster of rebellious, often tomboyish, heroines with whom clever girls have recently identified – from Jane Eyre and Margaret Hale (of North and South) to Maggie Tulliver (The Mill on the Floss) and even Jo March (Little Women) and my favourite, Anne Shirley of Green Gables.
Lizzie Bennet has an irreverent, protofeminist sparkle that makes her character easy for progressive audiences to enjoy. One can imagine her blazing her own way on any university campus today.
However, clever Miss Bennet was not an automatic crowd-pleaser on her first outings. One of Austen's earliest Victorian fans, Mary Russell Mitford, was appalled by "the entire want of taste which could produce so pert, so worldly a heroine as the beloved of such a man as Darcy".
But what of Mansfield Park's Fanny Price? She is a conduct-book evangelical, "extremely timid and shy, shrinking from notice", a frail girl who grows faint on a scorching afternoon cutting roses. The reticent, pious, even priggish character was too alien, possibly repellant, for the writer and director of the 1999 film version, Patricia Rozema, who drew on Austen's letters to fabricate another creature altogether. "I am a wild beast!" declared this updated Fanny, swishing her riding crop.
How to get contemporary TV audiences to like a heroine so unlike the spritely Elizabeth Bennet obviously exercised ITV in its adaptation of Mansfield Park in 2007. Hence it cast Billie Piper as Fanny, hot from her success in Dr Who and en route to Secret Diary of a Call Girl. Not so priggish then.
Modern audiences also puzzle over Edmund Bertram's rejection of the mesmerising girl he loves (the naughty Miss Crawford) because she countenances adultery in his sister. Propriety dates. The novelist Howard Jacobson, who roguishly calls himself "the Jewish Jane Austen", certainly found it a struggle teaching Mansfield Park in 1960s Australia, worrying that decorum was just too hard a sell. In the end, Fanny's patient love is vindicated and she marries Edmund, the clergyman. But as John Mullan, professor of English at University College London has admitted, "this is the one novel where the man the heroine loves does not quite convincingly love her back"; niggling for those of us who like a wholehearted happy ending.
We moderns take what we find congenial in Austen and often ignore the rest. Each generation have looked for their own reflection in the novels, admiring and rejecting, cutting and pasting as fashion demands.
Most recently, Austen has been crowned the doyenne of romantic comedy, her six novels repackaged as picturesque chick lit. Deidre Lynch, who lectures in English at the University of Toronto, observes: "One curious thing is that 100 years ago Austen was read mostly by men. Now it's a woman's thing because of the way the films have been marketed."
For many men, Austen is the archetypal women's author – her canvas too domestic, her domain too girly, her men too starchy and conformist, her settings too chintzy and her plots too prim to excite the average male reader. But this conviction is very recent. Harold Macmillan spent many Downing Street hours lost in Austen and Trollope; Winston Churchill claimed Austen and antibiotics helped him win the war; Rudyard Kipling gave solace to his family after the death of his son in the first world war by reading Austen aloud in the desolate evenings.
Why should a focus on female dilemmas be any less universal than an obsession with male problems? As an intelligence officer at the Western Front, Reginald Farrer recorded in 1917: "Talk of her 'limitations' is vain, it must never be thought that limitation of scene implies limitation of human emotion."
Many different Jane Austens have been celebrated since 1811 – sweet Aunt Jane in her rose-wreathed cottage, sardonic critic, master stylist, mother of the novel, feminist rebel and queen of romantic comedy. I think the key to her adaptability is her restraint. Austen leaves room for the reader's intelligence and fantasies, which has the uncanny effect of allowing each new generation to see themselves reflected back from her pages. And in another 200 years, I am sure readers still will.

eddie

The Gap Minder




Posts

: 7840


Join date

: 2011-04-11


Age

: 62


Location

: Desert Island




---
Permissions in this forum:
You
cannot
reply to topics in this forum