Medieval monarchs' books showcased by British Library
Illuminated manuscripts owned and annotated by kings and queens go on display in exhibition
Stephen Bates
guardian.co.uk, Thursday 10 November 2011 15.36 GMT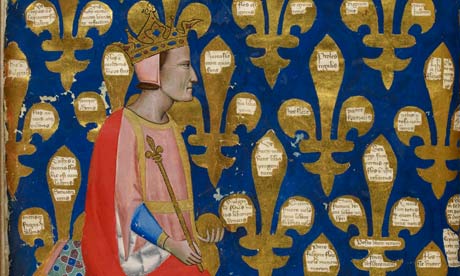 Detail of an illuminated manuscript in the British Library exhibition, showing Robert of Anjou enthroned. Photograph: LH Pordes/British Library
For more than 600 years England's medieval monarchs – many of them better known for their belligerence than their scholarship – collected illuminated manuscripts, which were among their most treasured possessions. The signs are that they read them, too, and gazed at their pictures. And now those pages, glowing gold, vermilion and lapis lazuli blue as vividly as when the kings first set eyes on them, are going on display in an exhibition at the British Library in London.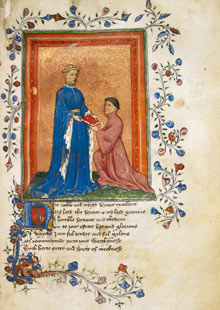 A miniature of a crowned man and a kneeling man both holding a book, assumed to depict the presentation of the book to Henry V as Prince of Wales
It is a remarkable collection: 154 of the books are on display from a collection of more than 2,000, collected by kings from Athelstan, who described himself as the first king of Britain in the mid-10th century, to Henry VIII. That they have survived in excellent condition is largely due to the fact that George II donated many of them to the nation in 1757 and more came from a collection gathered by his grandson, George III. Their successor, the Queen, is touring the exhibition on Thursday.
Scot McKendrick, head of history and classics at the library, who has curated the exhibition, said: "These manuscripts are our best way of connecting with the Middle Ages. There is a great deal of fuss when bodies are excavated and analysed down to the contents of their stomachs, but these books have so much more to tell us about the monarchs and their lives."
It is likely that the kings themselves, and their queens and offspring, handled the books on display. One of the earliest, Athelstan's copy of the Gospels, dating from the early 10th century and possibly inscribed at Lindisfarne, has a note on one page describing the king's release of a slave named Eadhelm after his coronation in 925.
Nearby are manuscripts of history books bought by Edward IV 550 years later and almost certainly read to his sons, who became the princes in the Tower and did not live long enough to benefit from the king's instructions in 1473 that they "should be read … suche noble stories as behoveth a prince to understand and knowe". What is known is that the royal accounts show their father paying £250 for books in the 1470s. Not that medieval monarchs always bought their collections: sometimes they looted them, as in the case of a book in the exhibition that was captured with its owner the king of France, Jean II, at the battle of Poitiers in 1356. Sometimes the hand-inscribed and illustrated manuscripts were so long in the making that their intended recipients died, in which case their names and coats of arms could be scratched out and painted over.
The range of manuscripts is wide: bestiaries and bibles, prayer books and propaganda, histories and stories, many lavishly illustrated. A Christmas Eve present given to the nine-year-old Henry VI in 1429 contains 38 full-page illustrations and 1,200 other pictures in the margins. There is a book of instructions, in English, advising how a prince should behave, given to Henry V while he was acting as regent for his father, Henry IV, in 1410; there are prayer books belonging to queens such as Margaret Beaufort, Henry VI's wife, and Cardinal Wolsey's bible, containing margin jottings relating to his master Henry VIII's divorce.
As extraordinary as any is a route map, drawn by the Benedictine monk Matthew Paris in about 1250, detailing the best way to get from London to Jerusalem – all the more remarkable because the monk only once left England and that was to travel to Denmark. Almost as detailed as a modern satnav route, it outlines how long the journey between towns is likely to take and sites of interest.
• Royal Manuscripts: The Genius of Illumination at the British Library, 11 November to 13 March

eddie

The Gap Minder




Posts

: 7840


Join date

: 2011-04-11


Age

: 62


Location

: Desert Island



Light reading: the illuminated manuscripts of the dark ages
In the digital age we should look back in wonder at illuminated manuscripts: medieval Europe produced some of the most moving images of readers and reading that exist
Jonathan Jones
guardian.co.uk, Friday 16 December 2011 22.55 GMT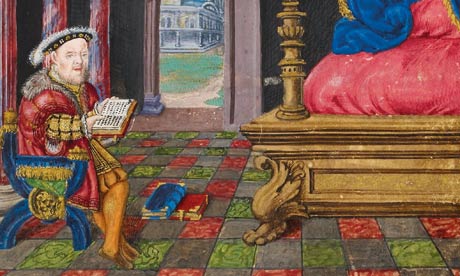 Monarch of the ken … Henry VIII as David (c1540) – part of the British Library's Royal Manuscripts exhibition. Click to see the full page. Photograph: The British Library
Francesca da Rimini's beauty and suffering are portrayed with serpentine sensuality in a painting by Ary Scheffer in the Wallace Collection in London. In this 1835 picture, Francesca and her lover, naked, turn in the dead air of hell. The poet Dante and his guide Virgil stand close by, contemplating the spectacle of Francesca's damned love. The painting illustrates Dante's Inferno, in which he tells how he saw Francesca da Rimini among the great sinners of lust in the second circle of hell. He felt compassion for her, and asked how she came to sin.
A book was to blame. One day, Francesca explains, she and her brother-in-law sat in a castle reading the chivalrous epic of Lancelot and Guinevere. As they read the story of how King Arthur's most glamorous knight and his queen became adulterous lovers, the two readers looked at one another and they, too, succumbed to passion. Reading is risk: through words on a page, these lovers were led to their eternal pain.
If a book can damn, it can also bless, or so hoped Jean II of France, who carried his Bible into battle with him at Poitiers on 19 September 1356. Whatever solace the book gave him, it did not provide victory. France was defeated by the English that day, and the king's Bible became booty. Bought for 100 marks by William Montagu, Count of Salisbury, as a gift for his wife Elizabeth, it eventually found its way into Britain's royal collections and is today owned by the British Library.
Books in these two tales are powerful, glamorous, sacred things, to be read with profound attention, clutched as talismans, kept as treasures. They are dangerous and redemptive, gateways to adventure and means of salvation. But the books in these stories have something else in common.
They were not printed on paper. They were written out by hand on animal skins. These books were illuminated manuscripts, copied out by scribes and decorated by specialist painters in monastic centres of medieval book production. At least one English noble family, we discover in the exhibition Royal Manuscripts: The Genius of Illumination at the British Library, created its own scriptorium to produce religious books on demand. There are early printed books that survive only in a single copy, but from this copy the existence of others, identical in their black printed words, may be deduced. A manuscript, by contrast, is unique even when it is part of a large edition – for the hand never produces exactly the same result twice.
Books have never been cherished more than they were in the middle ages. The exhibition at the British Library is a window on a world when the written word was truly valued and reading truly mattered. We, who may be witnessing and participating in the death of the book as an object, are in no position to patronise these medieval readers who adored their books so much they wanted their pages to be glorified with gold. The golden books of the middle ages survive from a world that saw learning as light.
As we see the ambiguous – to say the least – consequences for the book of the technological revolution of our time, a technocratic approach to European intellectual history makes little sense. Printing does not equal progress. European culture was supposedly liberated by printing in the 15th and 16th centuries. Print meant more readers, a greater reach for new books, the standardisation of editions of old ones. It created a new world of publishing that has endured for half a millennium. But were these changes all for the good? In reality, it can be argued, the greatest age of learning was the era of the illuminated book.
This may seem counterintuitive, but consider the Renaissance. In 14th- and 15th-century Italy, scholars and wealthy bibliophiles set out to recover the lost wisdom of ancient Greece and Rome. They wanted to understand classical texts to the letter, to get beyond abstract summaries to appreciate the singular voice of the authors, the "taste" that is in books, as Niccolò Machiavelli said of histories. This was an adventure story. They went to remote monasteries all over Europe to find forgotten classics lying in dusty corners of libraries. Petrarch found Cicero's Letters to Atticus and reconstructed Livy's Histories. Poggio Bracciolini recovered Tacitus.
These classic books of the western world were found, often, in single surviving manuscripts that had been copied by scribes hundreds of years before. So what happened next? Were they immediately taken to a printer? No. They were copied out in new manuscripts for the libraries of princes and bankers. Some of the most beautiful illuminated manuscripts in the world were made in the Italian renaissance. Far from the dawn of the age of print, the renaissance was the last great triumph of a manuscript culture that goes back to the great painted books of the dark ages.
The Royal Manuscripts exhibition includes fine British examples of this last flowering of illumination. Henry VIII reigned in the age of print but commissioned many illuminated books. Henry is portrayed reading in his bedroom at the beginning of his psalter. This is not as introspective and humble as it might appear. Other psalters – books of the Psalms – in the exhibition are illustrated with King David, their supposed author. Henry is here posing as a modern King David.
Before the rise of the Tudors, during the bloody civil wars of the 15th century, Edward IV commissioned a series of books to be made for him in Bruges: his library, all illustrated in the realist detail of Flemish art, is presented in the exhibition as a uniquely lavish display of princely bibliophilia. The scribes in the book houses of Bruges copied out a selection of modern and ancient histories for Edward: Froissart's Chronicles, a life of Caesar, The Jewish War by Flavius Josephus, St Augustine's City of God …
The illuminations of these books from around 1480 include not just fantastically embellished letters and swirls of foliage, but superb examples of the new painting of everyday life. A scribe is portrayed at work in his study, resembling depictions of scholarship in contemporary paintings by Botticelli and Antonello da Messina. A landscape with a watermill is pictured with deep perspective.
These big, beautiful paintings in books might seem typical of the Renaissance, yet they echo the generosity of some of the very oldest manuscripts in the show. In the ninth-century Athelstan (or Coronation) Gospels, there is a painting of St Mark writing, seated on a cushioned marble or inlaid wood stool, turning his haloed head; his white-robed figure is set in an ethereal blue that takes your breath away.
This brings us to the very essence of medieval illumination. The book was bright at the beginning of the middle ages because all around it was darkness. There is a book of gospels here from Lindisfarne, the great Northumbrian centre of faith and learning so menaced by Viking raids: it is a reminder that knowledge and reading were treasured in the early medieval world because few people could read and little was known. The heritage of Greece and Rome survived to be revitalised in later centuries because scribes in the eighth and ninth centuries copied out old works that must have seemed very remote from their brutal surroundings.
On the gospels from Lindisfarne, a note was added to record: "King Athelstan freed Eashelm straight away, as soon as he became king." This document of a slave's manumission reminds us of the immense distance between our world and the one that made and revered such books. Out of limitations came wonder: starved of education, short of information, medieval Europe made a cult of the book. That cult produced some of the most moving and eloquent images of readers and reading that exist. Imperial poseur he may have been, but as Henry VIII looks out from his portrait he seems the ideal reader, giving all his attention to a book that was made with love, to be read with love.
• Royal Manuscripts: The Genius of Illumination is at the British Library until 13 March.

eddie

The Gap Minder




Posts

: 7840


Join date

: 2011-04-11


Age

: 62


Location

: Desert Island



Revealed: the moaning of miserable medieval monks
'I am very cold' and other marginalia, written centuries ago by monks transcribing books, shows that not all was joy and light
Alison Flood
guardian.co.uk, Thursday 22 March 2012 14.44 GMT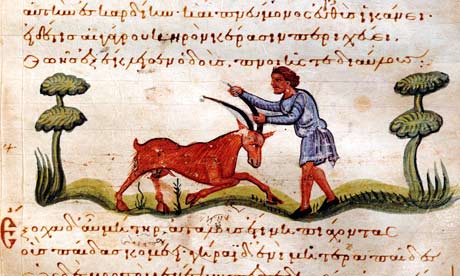 'Oh my hand' … a detail from an 11th-century manuscript. Photograph: The Art Archive/Corbis
Looking back at old copies of my set school texts recently, I was shamed to see, amid copious yellow highlighting, some of the notes I'd made in the margins. "Romantic", I'd written, idiotically, in Romeo and Juliet by the balcony scene. "Adumbration", I'd scrawled, obviously pleased with myself at this new word, in Phèdre. "Passion", as Heathcliff dashed his head madly against a trunk in Wuthering Heights. And, rather plaintively, "comedy?" by one of the Fool's scenes in King Lear. I obviously wasn't too sure about that one.
I feel happier today, though, to find I'm in good company, after spotting this collection of medieval monks' marginalia on Brain Pickings, courtesy of the new issue of Lapham's Quarterly.
"Thank God, it will soon be dark," wrote one weary soul, centuries ago. "Writing is excessive drudgery. It crooks your back, it dims your sight, it twists your stomach and your sides," wrote another. "This is sad! O little book! A day will come in truth when someone over your page will say, 'The hand that wrote it is no more,'" mourned a troubled third.
There are lots more and they are all lovely. While I understand the exhaustion of "Oh, my hand", and the misery of "I am very cold," it's "Now I've written the whole thing: for Christ's sake give me a drink" that really strikes a chord.

eddie

The Gap Minder




Posts

: 7840


Join date

: 2011-04-11


Age

: 62


Location

: Desert Island



Can't tell what language that text above is written in.

Can you illuminate?

Constance




Posts

: 500


Join date

: 2011-04-11


Age

: 61


Location

: New York City



'Fraid it's all Greek to me.


eddie

The Gap Minder




Posts

: 7840


Join date

: 2011-04-11


Age

: 62


Location

: Desert Island




Constance




Posts

: 500


Join date

: 2011-04-11


Age

: 61


Location

: New York City





Similar topics
---
Permissions in this forum:
You
cannot
reply to topics in this forum