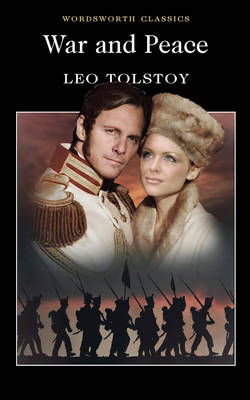 War and Peace by Tolstoy
Over to you, Twoody...

eddie

The Gap Minder




Posts

: 7840


Join date

: 2011-04-11


Age

: 62


Location

: Desert Island




eddie

The Gap Minder




Posts

: 7840


Join date

: 2011-04-11


Age

: 62


Location

: Desert Island



pinhedz wrote: "...overlong, rambling, episodic, with long philosophical digressions and an unsatisfying ending..."
Whose review?

eddie

The Gap Minder




Posts

: 7840


Join date

: 2011-04-11


Age

: 62


Location

: Desert Island



Alessandro Barbero's recent study of Waterloo takes more or less the same view as Tolstoy did of Borodino: viz. the result had almost nothing to do with the personal qualities/tactics of the opposing generals. Readable though Barbero's account is, it's as though Wellington hadn't been there at all.
Whenever Pentagon wargamers re-run Waterloo, Napoleon always wins.

eddie

The Gap Minder




Posts

: 7840


Join date

: 2011-04-11


Age

: 62


Location

: Desert Island




eddie

The Gap Minder




Posts

: 7840


Join date

: 2011-04-11


Age

: 62


Location

: Desert Island



eddie wrote:
I think Andy should review this one, I think it's his favourite book ever.
I quite like it, but, I thought it was a bit repetitive. There is big attention to small detail as well, which I don't mind, but some readers would.
I wonder too if a fair bit is lost in translation?

_________________
"Celine Dion and Oprah have given more to the world than any living member of the british royal family." - Captain Hi-Top

Nah Ville Sky Chick

Miss Whiplash




Posts

: 580


Join date

: 2011-04-11



With her psychogeographical interests, I believe Moony ordered this when I mentioned it on another thread:
Hackney: that Rose-Red Empire- Iain Sinclair.
It's quite a leap from the Australian outback to Hackney, so I'd be very interested to see what she made of it.

eddie

The Gap Minder




Posts

: 7840


Join date

: 2011-04-11


Age

: 62


Location

: Desert Island



Here's one review:
**********************************************************************************************
In passionate defence of his realm
Tim Adams admires the latest scathing dispatch from Iain Sinclair, in which he attempts to save Hackney's soul from Olympic folly
Tim Adams
The Observer, Sunday 22 February 2009
No one has ever written quite like Iain Sinclair. He will, without doubt, prove the indelible diarist of our age - our post-punk Pepys - though his diaries take the form of walking tours, striding in particular that margin between obsessive note-making, internal dialogue and scabrous prose. He makes you work to stay with him and if you try to keep pace without a knowledge of underground London phrase and fable, of American poetry and French cinema, you may sometimes fall behind. If you persevere, though, there are many moments in the journey when a paragraph will make the hairs on the back of your neck stand up, so acute is your guide's comic observation.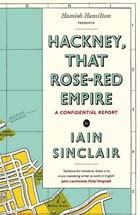 Hackney, That Rose-Red Empire
A Confidential Report
by Iain Sinclair
This is a book in search of home. Having done his celebrated circumnavigation of the capital in London Orbital, that rancorous perambulation of the M25, Sinclair here returns to the centre, his centre, to the streets around Hackney that he has walked almost every day for 40 years, from his house in Albion Drive (how he must love the Blakean resonance of that name). Home is in a constant rearguard action against change. Sinclair, or the brilliant construction of himself that narrates these books, is the developers' worst nightmare, the scourge of "progress".
He needs a monumental focus for his rage. In the book in which he found his compulsive voice, Downriver, it was the Big Bang hubris of Canary Wharf; in London Orbital it was the empty folly of the Millennium Dome. Now, a decade on, it is the £9bn hole in the ground, the blue-fenced Olympic site, the crater of dreams. So scathing has Sinclair been of the 2012 project, in particular in an essay in the London Review of Books, that he has become an unlikely pariah among the authorities in his borough. A reading he was due to give at a Hackney library was cancelled at the request of the council. Hackney is therefore "a confidential report", the book Tessa Jowell would love to ban - sort of.
Sinclair is sceptical about many things, among them structure. His film-making career never got off the ground, he suggests, because he never believed in the editing process; there was nothing he ever wanted to leave out. The wanderer was overwhelmed with footage. He adopts the same principle in his writing: nothing and no one that crosses his path appears unworthy of deconstruction. He begins, tellingly, with a digression about Hackney's recycling habit which serves as a handy metaphor for his own method. "We are the rubbish," he declares. "Outmoded and unrequired. Dumped on wet pavings and left there for weeks, in the expectation of becoming art objects." The "we" here is, I guess, everything with a soul and for Sinclair, a soul is the preserve of the derelict and the discarded; it is found in the market where no one ever goes. "It is my own choice," he writes, "to identify with detritus in a place that has declared war on recyclers while erecting expensive memorials to the absence of memory. This is a borough that has dedicated itself to obliterating the meaning of shame."
If this sounds a bleak prospectus, it doesn't stay so for long; there is redemption at every comic turn. Sinclair's quest - for nothing less than the grist and meaning of E8 before it is flattened by the Olympic dream - is enlivened by his fellow travellers, all of whom become, in his hands, remarkable eccentrics. Some are familiar: the indefatigable pamphleteer Stewart Home; the feminist pioneer Sheila Rowbotham; the ever-stylish cultural mortician Will Self. Others Sinclair has made famous before: film-maker Chris Petit, the only man who can make the author seem optimistic; Renchi, his former housemate and alter ego. And there is the expected cabal of unlikely discoveries: the Owl Man of Albion Drive (a long-term squatter with a fetish for stray strigiformes); the Mole Man of Mortimer Road (a resident tunneller who began with a wine cellar and ended with a direct subterranean route to the underground).
You can never work out quite how Sinclair holds this all together, keeps it moving forward. Quests come and go - for the spirit of Julie Christie in Bethnal Green, for the heart of Joseph Conrad's Hackney darkness, for Godard's East End masterpiece. Occasionally an argument surfaces. There's an interesting dialogue at one point with photographer Stephen Gill, who has also been recording the erasure of memory brought about by the Olympic vision. Having gone on a walk with Sinclair, he balks a bit at the relentless apocalypse of the writer's take on things. "Hackney gets so much stick and of course we should present the truth as we see it," Gill writes, "but I would also love to help Hackney get back on its feet." Sinclair includes this, but he does not respond to it, quite. There's no place in his world for regeneration, only regret and the endless spur of curiosity.
It's this latter tension that makes his books, despite all their arcana, so human. Sinclair thought about leaving Hackney before he wrote this. He bought a bolt hole in Hastings, which reminded him of how Hackney had been before the estate agents exaggerated its iniquities. He could have gone, but now he knows he never will; if he discovers anything in these pages, it is that there is too much to stay for. His wife Anna, who has been not much more than the psychogeographer's version of "her indoors" in previous books, is here more of a muse, working as a teacher, raising their three children while her husband's mind wanders.
They first came to Hackney half a lifetime ago, full of the Sixties, and they have stuck with it, for better and for worse. Sinclair may have set out wanting to make this book another gazetteer of subversion, but along the way a different tone emerges, one that he perhaps least expected: that of an old-fashioned love story dedicated to a life lived in one place.

eddie

The Gap Minder




Posts

: 7840


Join date

: 2011-04-11


Age

: 62


Location

: Desert Island




---
Permissions in this forum:
You
cannot
reply to topics in this forum