Will Self: The trouble with my blood
Diagnosed with a rare blood disease, Will Self has to endure weekly 'venesections' in hospital. He reflects on illness, addiction and mortality
Will Self
guardian.co.uk, Friday 21 October 2011 08.59 BST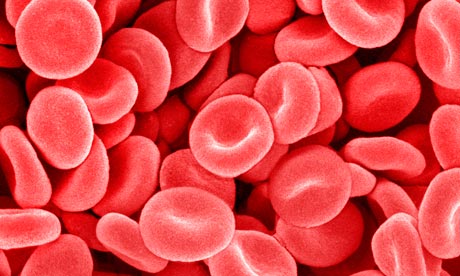 'My blood is currently as thick as tomato purée.' Photograph: Susumu Nishinaga/Science Photo Library
Some time over the winter of 2010-11 I began to be gorged with blood – or, rather, my blood itself began to be gorged with red blood cells, with haemoglobin. I didn't pay it much attention – mostly because I didn't realise it was happening, the only perceptible symptoms being a certain livid tinge to my face and to my hands, which, I joked to family and friends, had started to resemble those pink Marigold washing-up gloves. When I took my gorged hands out of my jeans pockets the tight denim hems left equally vivid bands smeared across their backs – these, I facetiously observed, were the colour of those yellow Marigold washing-up gloves.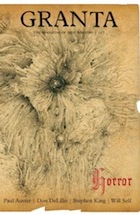 Granta 117: Horror
by Paul Auster, Don DeLillo, Stephen King, Will Self
I had no intention of doing anything about my pink-and-yellow striped hands. This is not, I stress, because I'm especially neglectful of my health – at times I can verge on hypochondria – but rather because they didn't strike me as obviously cancerous. I was on the lookout for the crab – but then I always am. It scuttled away my father and mother, the latter at 65, an age she would've described herself – also facetiously – as "getting younger". And during the preceding year it had been nipping at my 47-year-old wife, trying to drag her down the sable strand and into the salt, chill waters that lap against life. She had been diagnosed with breast cancer in June 2010, had a mastectomy in August, followed by a gruelling autumn then winter of chemotherapy and a silent spring of radiation.
My wife bore her illness in a manner that demanded nothing but admiration. As we walked down the grotty staircase of Guy's Hospital Tower from the consultation where she'd been informed of how radical her surgery would need to be, she turned to me and said: "I'm so lucky. If it was 25 years ago, or I was somewhere else in the world, I'd've just received a death sentence." I was less sanguine – metaphorically speaking. I felt distracted and doomy; I was a dilatory carer – and at times seemingly wilfully inept. I could just about manage the basics: the feeding and dressing of our two younger children, and the forcing upon her of increasingly unwanted cups of tea.
It didn't help that we seemed to be at the centre of a cancer cluster: one friend was dying of leukaemia in Hammersmith hospital, another was in the process of being diagnosed, a third had had half his throat and jaw chopped out. I fully expected cancer myself. To paraphrase the late and greatly pathetic roué Willie Donaldson, you cannot live as I have and not end up with cancer. There was the genetic factor to begin with, and then there's been the toxic landscape of carcinogens – the yards of liquor, the sooty furlongs left behind by chased heroin, the miles driven and limped for over a decade to score crack which then scoured its way into my lungs. The prosaically giant haystacks of Virginia tobacco hardly bear mentioning – being, in contrast, merely bucolic.
No, I was on the lookout for the crab – not a pair of lobster's claws. It was my wife who eventually sent me across the road to the GP, a shrewdly downbeat practitioner who in the past had declined to check my cholesterol levels or send me for a prostate-cancer biopsy, but now took one look at the human-into-crustacean transmogrification and sent me straight down to St Thomas's for a blood test. The results came within a couple of days, and when I saw him in person he confirmed what he'd told me over the phone: "Your haemoglobin is right up, and your white blood cell count is also elevated. I can't be certain but I think there's a strong possibility it's …"
I pre-empted him: "Polycythaemia vera?"
"Aha," he said. "Been googling, have you?"
I conceded that I had.
"Well,'" he continued, "the Wiki entries are pretty thoroughly vetted – if you stick to that you're on safe ground."
I inwardly congratulated myself for having done just that. But still, polycythaemia vera – what was that? A disease that sounded like a Greek goddess spliced with an East End pub-landlady, a disease that resulted from a single gene mutating and instructing your bone marrow to indulge in a mindless overproduction of red blood cells. A disease that was rare, chronic, incurable and, while no one yet understood the exact reasons for the mutagenesis, disproportionately present among Ashkenazi Jews. I liked that – in my transgenerationally facetious way: my mother had passed a generous dose of Jewish antisemitism down to me, and along with it this Jewish disease had been bred in the bone.
When my wife was having her operation, the windows of her surgical ward at St Thomas's looked out over the imperious clutter of central London jumbled in the bends of the Thames – its giant Ferris wheel and hypertrophied concrete bunker of a theatre, its recently whitened kingly sepulchre and its admiral-tipped bodkin. When my friend was having half his tongue and throat chopped out at University College Hospital, I went to visit him and found he had a still more spectacular view: south-facing from the Euston Road, the grid-pattern of Bloomsbury and Marylebone seaming into the hugger-mugger from which spears Senate House and Centrepoint. Further off sprouted the thicket of the City, while the North Downs smeared greenly along the horizon.
It occurred to me then, that for a Londoner, serious illness often afforded this curious discombobulation as one became a tourist in one's own city, resident for a week or two in a subsidised hostel conveniently located for all the visitor attractions. And so, as I rose up from the bowels of London Bridge tube station, en route to my first hospital appointment, I toyed with the idea of turning left and heading for the London Dungeon instead of right to the Guy's haematology day unit. I'd never bothered to visit the dungeon before – but its cheesy tableaux of caged, flayed and beheaded dummy felons spattered with ersatz gore would probably be a nice distraction from the far more veridical Guignol that awaited me.
Tunnelling out from the station to ground level, I found myself in St Thomas Street hard against the soaring glassy flank of the Shard, the city's latest indulgence in postmodernist desktop-toy ornamentation. Its starchitect, Renzo Piano, has spoken of how, when completed, the 87-storey building – the European Union's highest – will appear altogether insubstantial, tapering away into expressive angles of glazing within which the cityscape will be reflected. But I could apprehend nothing of this nothingness – in my current state the Shard was notable only for being acuminate: a vast hypodermic needle lancing up into the cloudy tissue of the sky.
On the stairs of the hospital's Southwark wing there was a taped-up piece of A4 paper, advising me to go up and down them for 10 minutes a day if I wanted to maintain good CARDIAC HEALTH. At the fourth floor I could turn left to the BLOOD BANK, or right to HAEMATOLOGY 2. In front of me were some nylon bags about 18in cubed – white ones were labelled "Buffy Coats"; red ones "Platelets". This was the realm of the logical positivists, I thought. I had trafficked in disease as a metaphor for 20 years now, grafting the defining criteria of pathologies – their aetiology, their symptoms, their prognoses and their outcomes – on to phenomena as diverse as the human psyche and the urban fabric, yet now I had a disease that seemed to me to be a metaphor – although of what exactly I couldn't yet divine – I found myself in a viscid substrate, cultured with rapidly multiplying literalisms. When I told friends about my condition and what the most effective therapy for it was they all – all! – said the same thing: What? You have to get bled? What will they do that with? Leeches? I found this stereotypy infuriating: how big a leech would be required, I spat at them, given that they've got to take two pints a week out of me? No, they use a needle – and a big one, since my blood is currently as thick as tomato purée.
This silenced them. But then nobody talks about therapeutic bleeding much, although it transpired that a neighbour of mine – tall, eccentric, with the carelessly drawn appearance of a Quentin Blake children's illustration – was also having his blood regularly siphoned off. I encountered him outside his double-fronted and unrendered house, and he jollily recounted how his haemochromatosis meant he had to have a pint taken out every now and then. "I've got a friend at King's," he said, "who does it in a broom cupboard for me – not strictly allowed, but there you go. Anyway, he lets me take the blood away with me so I can put it on my pumpkins." He gestured to his front steps, where every autumn a gaggle of the engorged and vampiric gourds clustered. "It really is the most excellent fertiliser." This Addams Family domesticity was cheering – and I could understand why my neighbour's pumpkins thrived on his blood, given that his condition meant it was iron-enriched. But what conceivable use would I find for my own rubicund brew?
On at least four of the 16 occasions between April and July that I went to Guy's for my venesections I was accosted outside the McDonald's on St Thomas Street by the same young man. He was well-spoken if shabbily dressed, and had the limp-scrape gait and the paradoxical features – at once sharply etched and poorly registered – of the street junky. Each time he asked me for change and each time I asked him if he had a drug problem. The first time he denied this I told him: "Sorry, I only give money to people who have a drug problem." So, predictably, he back-pedalled: "No, no, I do have an 'abit …" Addiction being such a great leveller, it planes away even the ability to detect irony. Then I zeroed in for the kill. "I'm sorry again, but I don't give money to liars." And he desperately rejoined: "I juss don't like to admit it straight up. Y'know what people are like …" Finally, I relented and gave him a pound coin or two, before subjecting him – in the time-honoured Sally Army way – to a homily in return for his handout.
I told him how I too had once been where he was: a heroin addict – on and off for 20 years – but that I had been clean now for almost 12. I told him that if he wanted to get clean and stay that way all he had to do was follow some remarkably simple steps, the first of which was to make the admission that he was indeed an addict, rather than lying about it to himself and the world. Of course, the second time I saw the junky he recognised me halfway through the exchange and the third time we chatted away like old acquaintances about all the insuperable barriers there were to his taking my blindingly simple advice. The fourth time I saw him I just handed him the money – I was tiring of the charade, both his and mine.
I first stuck a needle in my arm in the summer of 1979 – I was 17 years old. I often think back with a protective tenderness towards my younger self and wish I were somehow able to dissuade him from such a mutilation, from breaking the blood-air barrier in that crazy way. Sometimes, when I hear people without experience of addiction blame addicts for their behaviour I feel like saying to them: "You simply don't understand – how can a child be held responsible for doing such a dreadful thing to himself?" But then again, at other times I have to acknowledge: it was done wilfully. No matter how obscured they were by the fogs of adolescent self-deception, I was fully acquainted with the facts.
My concern here isn't with addiction to drugs – although that horror has cast a long shadow over my life and the lives of my family, and infiltrated my fictive inscape, poisoning its field margins, salting its earth. No, my concern is with addiction to needles. The addiction to transfusing solutions of heroin, or cocaine, or amphetamine into my own blood was anterior – but the obsession with the hypodermic and the compulsion to drive it home followed with inexorably maddening logic. I was never good at shooting up – a deranging oxymoron if ever there was one. In a way, I think this was deliberate: to be inefficient at it was another form of denying that I was really an addict, akin to never having a methadone prescription, or shoplifting. I taught myself to do it, and quickly transformed my skinny arms into an appliqué of scabs, sores, blotches and welts. I have never been good at DIY. To give herself an effective hit, the drug user must apply a tourniquet, raise a vein, probe with the needle, neatly pierce the epidermis and the wall of the vein, watch for the smoky plume of blood to rise up through the needle and into the barrel of the syringe, release the tourniquet then push the plunger home.
A practised self-injector will slightly depress the plunger of the hypodermic, then deftly pull it a little way out, depress it a bit more, pull it out again – in so doing the barrel will become suffused with blood, while the inrush of the drugs takes place with a mounting rhythm of successive waves. In the bankrupt trade of self-annihilation (CLOSING DOWN SALE – ALL SCRUPLES MUST GO!), this technique is known as "flushing the works", and some habitués compare its effects to the gathering tempo of an orgasm – especially when the solution in the syringe is compounded of heroin and cocaine, a so-called "speedball". I last shot a speedball in the summer of 1992 – and, indeed, I think that may well have been the last time I ever injected drugs at all, at any rate I have no memory of doing it thereafter. In part I stopped because I'd had a period off drugs altogether in the late 1980s and, although I was sliding headlong back into addiction, I knew that this practice was giving it a shot in the arm – metaphorically speaking. But I also desisted because by then the laborious home chemistry of freebasing cocaine – my favoured snuffle – had given way to the prêt-a-porter of crack, and this was quite as speedily an effective drug delivery system.
What matter, the facts are these: for a decade or so I stuck needles in my arms, my hands, my feet and on one particularly weird occasion my penis. I schlepped across town in all weathers to buy needles and syringes from late-night chemists at Marble Arch and on Willesden Lane – because these were the only outlets in London that sold them over the counter, no questions asked. For a junky who was bad at shooting up I was peculiarly fastidious. I knew all about the risks – from septicaemia to "dirty hits" (when bacteria are injected along with drugs), and viruses such as hepatitis B – initially – then latterly hep' C and HIV. I took precautions to guard against these maladies, such as using sterile needles wherever possible, and if I couldn't, cleaning the old "works" with bleach in solution. Most fortuitously I hardly ever shared needles – indeed, I can only remember doing this on two or perhaps three occasions, but it's significant that one of these involved the flea's progress of the syringe. "It suck'd me first, and now sucks thee / and in this flea our two bloods mingled be …" – between two fellow-addicts, both of whom subsequently turned out to have hepatitis C – then on to me.
I was lucky. HIV is comparatively feeble anyway – although intravenous drug use remains a royal road for its progress – but hepatitis C was, is and always will be a devilish shape-shifter of a virus: tough, long-lived, ever-mutating. A grapeshot of these virions cut a broad swath through my generation of IV drug users, so broad that to be hep' C free is almost the exception. I was lucky – I had spent long nights shooting cocaine every 15 minutes or so until my arms were as luridly wounded as those of a persecuted medieval saint. I had poised with a syringe full of coke stuck in my arm for long, heart-thudding moments, conscious that if I depressed the plunger I'd have a heart attack or a stroke. I had become so fixated on this perversion of medical therapeutics that I found myself on several occasions, when I didn't have the wherewithal, boiling up the old bits of cigarette filter through which the scuzzy drugs had been drawn off, mixing this sub-strength potion with citric acid (used to facilitate the dissolving of the browner, less-refined form of heroin), then shooting this up. A process I repeated several times over until I was injecting more or less pure citric acid which burned bitterly through my traumatised veins. I shot up and up and up and up … then fell back to earth, and was left with nothing more troubling than fading external track marks and thrombosis around the veins I had used most frequently.
I suspect that all those who've put needles behind them have to develop a loathing of them, have to reinforce their repudiation with the horror that was formerly swept aside by insensate desire. I couldn't bear to look at an injection being administered on the television – let alone live. I recoiled from all pointy things – and from the red gush they dug in human soil. Even walking along the street the spear-tipped railings caught and tore at my eye. If I saw a motorcycle speeding through the London traffic, on its white top box the life-saving legend HUMAN BLOOD, I recoiled. My blood may not have been infected – but it was tainted. When I had to have a blood test for this or that suspected ailment, I became tense: I would have to tell the nurse about my past or else they would try to pierce the still-thrombotic veins – and then he or she would become tense, and then it would all go wrong. So wrong.
Sitting in the consulting room of the haematologist at Guy's, I heard little of what she said. She was a serious head girl with straight eyebrows and a crisp white coat – I was a shabby delinquent. When I asked about prognosis she was circumspect in the way good practitioners are – after all, statistics are only applicable to groups, not individuals. "I have some patients", she said, "who I've maintained purely on venesections for 10 to 15 years." Later – much later – the "some" came back to me, but in the short term there were those venesections to cope with: a tourniquet would have to be applied, a vein found, a needle stuck through dermis and vascular wall … and then, no payback, no flushed warm gush of lotus-juice or essence of lethe, only the siphoning of my deathly blood. I listened to what the consultant said about red cell counts and white cell counts and platelets but these were only so many cubic nylon bags jumbled in the corridors of my mind. But I heard her when she said the venesections – the beginning of a lifetime on the needle – needed to begin right away, that morning, at once. Now.
In the day unit the dark vinyl chairs tip back at the press of a button and small footrests simultaneously emerge. If it weren't for the way the chairs are arranged in groups, or the fact that the ministering staff wear a variety of unflattering uniforms, I thought, this might be the business-class section of some wide-bodied jet bumbling down to Heathrow along a dangerously low-altitude flight path. After all, here through the long strip of windows were the unrivalled views of central London landmarks – Tate Modern, St Paul's Cathedral, assorted other Wren churches – that I had come to expect from medical tourism. The only problem was me. I saw spires, lightning rods, phone masts, pylons – an acicular world upon the myriad sharpened points of which I was poised, petrified, lest the slightest movement see me espaliered.
It was worse than pathetic of me to be so squeamish – all around me on the unit sat my peers, my blood-brothers and sisters with their haemochromatosis and their polycythaemia vera, their sickle-cell anaemia – and worse. Some hid their baldness with hats, others had exposed flesh that was empurpled by lesions; all of them appeared utterly indifferent to the cannulae stuck in their arms or the backs of their hands. They read magazines or fingered laptops, drowsed between headphones or chatted with friends and relatives, all pointedly ignoring the transparent bags of factor-this or factor-that being factored into them, that hung from stands by their shoulders.
A nurse had to talk me through that first venesection as I gurned and contorted. I directed her away from the veins she favoured in the pits of my elbows because I knew these had thrombosis, and denied her access to the ones that twisted, ivy-like, around the back of the forearm, because I also knew – in junky parlance – that they were "rollers" which would worm away from the needle. The needle was, of necessity, thick – and it took a long time for her to get it inside me. But my blood was thicker still – and it took a long time to pulse out of me. To begin with the staff were perfectly accommodating and they put me on one of the available beds, such was my nervousness; however, by the time I got to my third venesection they were chivvying me towards the business-class section. Here, a nurse infected by my own tension collapsed a vein on one arm, then, on the other arm, failed to bind the needle into the vein so that it shot out with a gush of blood. Over the following 24 hours the bruises streaked like sepsis. When I returned to the unit for the next venesection I was back in one of the bays, back on one of the beds. Here, distraught, I confessed to the trained vampire in her cotton cloak who was having difficulty dowsing for a suitable vein that I had once been an intravenous drug user. Was it my imagination, or did the attitude towards me on the unit change after this? Was there a certain chilliness engendered in the stuffily antiseptic atmosphere? I was gripped by the circularity of my fate, which seemed to have been encrypted in the circulation of my blood. What goes around comes around, and this professional needlework was the appropriate karmic comeback for all that amateur embroidery.
In the prefatory remarks to her magisterial essay "Illness As Metaphor", Susan Sontag notes that we are all dual citizens of the kingdom of the well and the kingdom of the sick – although we all prefer to use only the one passport. She goes on to observe that, of course, illness is not a metaphor at all and that "the most truthful way of regarding illness – and the healthiest way of being ill – is one most purified of, most resistant to, metaphoric thinking." I had known this once, yet preoccupied by my own history of mental distress and blinded by my professional malaise – for does not the fiction-maker engorge himself with the similitude of disparate things? – I had looked feverishly for what my bloody disorder was like. It seemed synonymous with my addictive illness – and also to be a bizarre antonym of vampirism, which, in turn, surely, was a metaphor for venereal disease? And also for tuberculosis, which in the 1900s was still viewed as repressive of an inflamed and passionate sexual appetite. I had trafficked in illness as metaphor, dealing as a novelist especially in that romanticising of madness that Sontag sees as "reflect(ing) in the most vehement way the contemporary prestige of irrational or rude (spontaneous) behaviour (acting out) …"
As I got over my culture shock and came to my senses in the realm of the sick I saw that the comfort of things-in-themselves was the only pabulum available or required. The blood pressure cuff cinching my arm, the sensor clipped on to my finger, the nurses in their filmy polythene aprons – to accept these quotidian things was to be open to everything. One of my friends with leukaemia had died – the other was about to have a stem-cell transplant. The friend who'd had his tongue and throat therapeutically mutilated lay in bed 20 hours a day, zonked out by the horror of it all. My wife's cancer had a better than 40% chance of recurring within a decade. Even if statistics weren't for individuals, this represented a powerful index of the fact that shit happens. We were middle-aged, apoptosis was well under way – get over it.
Only a culture that had misheard Sontag's advice and instead of excising the cancerously metaphoric assumed that it took benign forms could have witnessed such terrifyingly silly metastases. We may have tried to normalise cancer with fun runs and awareness weeks – yet still we "battle" against it in a war without end. Death, the real simile for disease – for when we are ill, do we not always feel like we are dying, even if it's only a little? – remains, despite our secularism, the most metaphoricised phenomenon of all. As fast as we could eliminate the metaphors – our science helped them to proliferate. Metaphors were the iatrogenic disease of our era.
As for me, I had always relied on the hardiness of my body to aid me in the battle against my fervid mind – yet now I had cause to examine the last few months it struck me that my sensibility had been doing good therapeutic work well before my diagnosis. The novel I was working on concerned illness – no surprises there. Indeed, it was more than usually saturated with pathology since its protagonist was a sort of disease personified. Yet what was the device I had decided upon in order to lend a verisimilitude to this particularly deranged tale? Why? That there should be no metaphors in it at all, nothing should be defined in terms of anything else – no vampire should be like a filthy leech, any more than a filthy leech should be like a vampire. In Ecce Homo Nietzsche said that illness was the beginning of all psychology; he might have added that the only possible therapy was a statement of the facts.
© 2011 Guardian News and Media Limited or its affiliated companies. All rights reserved.

eddie

The Gap Minder




Posts

: 7840


Join date

: 2011-04-11


Age

: 62


Location

: Desert Island



Will Self to become a professor of contemporary thought
Maverick writer will be teaching students at Brunel University's school of the arts and its school of the social sciences
Jeevan Vasagar, education editor
The Guardian, Thursday 23 February 2012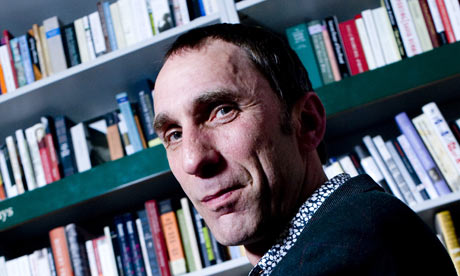 Will Self is to contribute to courses on urban planning, human geography, journalism and creative writing at Brunel University. Photograph: Rex Features
Since graduating from Oxford in the early 1980s, Will Self's career has been nothing if not diverse. He has swept streets, drawn cartoons and made cold calls; he has written as a maverick political journalist, a psycho-geographer, satirist and self-declared flâneur.
Now he is going back to university – this time in a role that marks his most respectable stage to date – as professor of contemporary thought at a London university, with licence to dream up new courses and research projects that reflect his eclectic interests.
Self takes up the new chair at Brunel University, in Uxbridge, west London, next week. He will be teaching undergraduate and post-graduate students at the university's school of the arts and its school of the social sciences.
He may contribute to courses on urban planning and human geography; he has written about the pleasures and hazards of exploring cities on foot. He may also teach a module on "psychoanalysis and contemporary society", echoing a theme of his fiction in which a psychiatrist is a recurring character. Self describes psychiatrists as occupying a "priestly role" between sanity and madness.
The university also expects him to contribute to the teaching of journalism and creative writing.
The author will have a role in increasing the university's engagement with the wider community, which will begin with a lecture on "urban psychosis" at the end of next month.
Self said his teaching would reflect preoccupations such as the relationship between people and geography. "I do think there are interesting things to be said about the relationship between different modes of transport, including pedestrianisation, and perceptions of the way the city has grown up, the way we experience it, and the impact of new technologies on that … I just think that architects should be made to walk."
He added that Brunel attracted him for "psycho-geographical reasons".
"It's very near to Heathrow, and there's a big British Asian community that has grown up around Southall. Take the last few weeks and all of this Dickens brouhaha, the bourgeoisie got themselves into an awful pother – 'why was he so great and we're so crap – where is the contemporary Dickens?' Maybe the contemporary Dickens is going to be a British Asian."
Self said he hoped his own writing would be influenced by his activities at Brunel.
Dany Nobus, Brunel's pro-vice chancellor, said the university is keen for Self to develop new ideas for research activities and teaching programmes that cross disciplinary boundaries.
He said: "We were incredibly impressed, not just by his intellectual background and range of interests but also by his commitment to university life.
"What we want to do is about crossing boundaries and also about taking the university beyond its own boundaries, opening things up towards the wider community."
Self said that he was joining Brunel at a parlous time for universities. He regards higher education as a sector under assault from a reductive view of universities as training for a future workforce.
"Just because the dominant metric seems to be that everything has to be costed in terms of how it contributes to the economic producers of the future doesn't mean that I can't critique that, and make that part of my teaching practice," the author said.
Self, 50, who is married to a Guardian journalist, Deborah Orr, is the author of eight novels, five collections of shorter fiction, three novellas and five collections of non-fiction. He studied politics, philosophy and economics at Exeter College, Oxford, graduating with a third.
In 1997, while covering the then prime minister John Major's campaign for re-election, he was fired by the Observer for allegedly taking heroin on the official aeroplane.
Brunel, founded in 1966 and named after the Victorian engineer, has another novelist on its staff: Fay Weldon was appointed chair of creative writing there in 2006.
Will Self on …
The Olympics
I think the Olympics suck dogshit through a straw. People believe they encourage da yoof to take up running, jumping and fainting in coils – but this is nonsense. They're a boondoggle for politicians and financiers … The stadia themselves are a folly. The new Westfield is a temple to moribund consumerism – in 10 years' time they'll all be cracked and spalled; a Hitlerian mass of post-pomo nonsense.
Drugs
I admire them from afar. I think the heavier hallucinogens are amazing. The problem with our society is there aren't enough positive drug rituals. I said this to the Archbishop of Canterbury the other night – the Church of England should introduce some sort of ecstasy communion.
The internet
The web – like any other emergent medium – is still inchoate. The claims of Mumsnet, Twitter etc to be intrinsically 'democratic' forces for good that have helped to bring down evil empires in Tehran, across the Middle East and now in Wapping are wholly specious.
The honours system
Defenders of the honours lunacy always point out that it isn't only crony capitalists and political placemen and women who are cloaked in ermine and topped-off with balls. But the odd ennobled social worker is no match for those furious oxymorons: the Labour lords – surely paradoxes on a par with fascist humanitarians or vegan hammerhead sharks.

eddie

The Gap Minder




Posts

: 7840


Join date

: 2011-04-11


Age

: 62


Location

: Desert Island



Will Self: Walking is political
A century ago, 90% of Londoners' journeys under six miles were made on foot. Now we are alienated from the physical reality of our cities. Will Self on the importance of walking in the fight against corporate control
Will Self
guardian.co.uk, Friday 30 March 2012 09.00 BST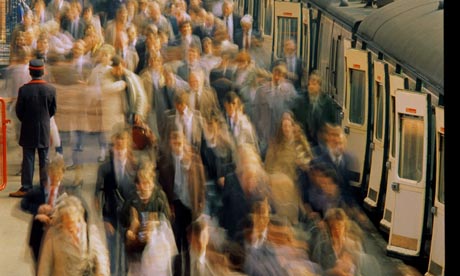 Photograph: John Freeman/Getty Images
She stumbles through the city streets, her eyes now unfocused – absorbing a confusion of grey, brown and red parallelograms, that she knows to be crushingly weighty, and yet which she feels to be as insubstantial as dandelion spores – and now locked on the faces of those others who pass by her with such fixity that, if she concentrates on a single physiognomy, she senses that with only a little further effort she would be able to deduce everything about that individual: his age, occupation, sexual history, political affiliations, the names of his family and friends. For milliseconds she is transfixed by the uniqueness of his personality – and then he is subsumed once more into the crowd. In the roadway beside her the traffic courses: buses whoosh, lorries grind, cars bounce, motorcycles swerve – yet there is no mechanical noise at all, these steely parallelograms interleave, shuffle and montage to the accompaniment of electronic peeps, beeps, burbles and thrums – a soundtrack that our walker can choreograph all the traffic to, human and vehicular, her deft, darting eyes seamlessly stitching order out of the chaos so that everything around her skips to her divinely ordained beat. She is completely lost: she could not tell you the name of a single street or notable building.
She is disoriented – and yet her progress is a perfectly plotted trajectory through urban space: she looks into the glowing multifaceted jewel in the palm of her hand and here other parallelograms interleave, shuffle and montage in response to the tweezer motions and baton-flicks of her fingers. It tells her where to go, the jewel, and when she places it to her ear it speaks to her, so that in turn she can command her own faltering legs to carry her to the right, to the left, straight ahead, until at last there is a face she recognises – or does she? Unbidden, his age, his occupation, his sexual history, his political affiliations, the names of his family and friends all come to her. And yet in the milliseconds before they intercept one another she is transfixed by an awful sense of the stereotypy of his personality – then he is mercifully released from the crowd and into her arms. "Sorry I'm late," she puffs – she knows she is precisely three kilos overweight. "It was miles to get here from the tube." She has, in fact, walked exactly 723 metres.
❦
I hope the above will be taken for what it is: a lightly poeticised account of the mental state of an average young woman negotiating her way through the urban environment. Her responses to her fellow city dwellers, to the road traffic, to the business of finding her way using a handheld GPS system while listening to music on her MP3 player are all quite normal, and yet, set down like this they seem to me to be indisputably analogous to a clinically defined psychotic state. Like a sufferer from psychosis, our young woman's conception of reality radically diverges from her environment: she is surrounded by actual buildings, with a defined and apprehensible nomenclature; the people she passes are neither clones nor individually known to her but a mass of strangers; neither these people, nor their vehicles are moving in synch with the music she listens to; and finally: her perception of distance is distorted, while her ability to negotiate her environment is dependent on systems external to her own mind that, for all their technical efficacy, are as opaque to her as the magical rituals of a shaman. Indeed, so long as the rendezvous with her boyfriend is made, it would make no difference to our young woman if it were effected by her consulting a fetish, or flinging a handful of bones on to the pavement and directing her footsteps in accordance with their arrangement.
That our mode of being in the industrialised – and now post-industrial – built environment is in some sense profoundly awry is by no means a new observation. Writing in the 1840s, Friedrich Engels notes the "brutal indifference, the unfeeling isolation of each in his private interest", which "becomes the more repellent and offensive, the more these individuals are crowded together in a limited space". What he characterised as the fundamental principle of society everywhere, was nonetheless "nowhere so shamelessly barefaced, so self-conscious, as just here in the crowding of the great city".
But writing 20 years earlier, Thomas de Quincey had already perceived in the great moiling of London's thoroughfares a fundamental alteration in the nature of human connectivity. As a teenage runaway he was, by his own account, saved from starvation on the streets by a young girl, Ann, with whom he spent some weeks. On their parting he arranged to try to meet with her on the corner of Titchfield Street at a given hour in the evening. If either of them failed to make this rendezvous they were to try again the following evening – but she didn't come after many nights, and although he searched for her throughout the city, De Quincey was never to find her again. He says: "This, amongst such troubles as most men meet in life, has been my heaviest affliction. If she lived, doubtless we must have been sometimes in search of each other at the very same moment through the mighty labyrinths of London."
You might argue that had he and Ann had access to the web, they could have zeroed in on each other unerringly; that the mighty labyrinth of London – which at that time had a population of around an eighth of what it is today – would have been rendered as flimsily irrelevant as the walls that are crashed through by the protagonists of mobile phone TV adverts, designed expressly to demonstrate that the urban environment's complexity is annulled by the juju of technology. De Quincey says his failure to find Ann was his "heaviest affliction", and in this he seems to make his loss emblematic of an entire society's abandonment of personalised bonds. He asks numerous people for Ann's whereabouts, but in the city all that counts – that is measurable – is the crowd; the individual – especially the poor, female individual – counts for nought.
In Edgar Allan Poe's short story "The Man of the Crowd", published in 1840, the unnamed narrator is initially transfixed by a particular physiognomy: "a countenance which at once arrested and absorbed my whole attention, on account of the absolute idiosyncrasy of its expression. Any thing even remotely resembling that expression I had never seen before. I well remember that my first thought, upon beholding it, was that Retzch [sic], had he viewed it, would have greatly preferred it to his own pictorial incarnations of the fiend." You don't have to be familiar with the engravings of Moritz Retszch (1779-1857) to get what Poe is driving at, especially given that up until this point the faces of those the narrator has passed by in the teeming London streets have been described solely as different versions of types – the eponymous Man of the Crowd is the first individual he has chanced on.
However – and here Poe's irony dramatically prefigures all of the 20th century's sense of urban alienation – as the narrator follows this singular person, he becomes slowly but insistently aware that his quarry is unable to exist apart from the crowd, that the haunted, fiendish expression and threadbare appearance is a direct product of a need this man has always to be among others. Poe's epigraph for "The Man of the Crowd" is from La Bruyère: "Ce grand malheur, de ne pouvoir être seul" (it is the greatest misfortune to be unable to be alone). Some might argue that the city presents us with a liberating experience, that by freeing us from the oversight – moral and political – of small, enclosed communities, the urban existence fostered self-actualisation and, by extension, good mental health. But the examples of Engels, De Quincey and Poe belong to an era of rapid urbanisation when the cityscape was still traversable on foot. Is it too fanciful to suggest that the genius of these early 19th-century writers was to anticipate the western conurbations of the early 21st century, where oversight of the crowd is undertaken by closed circuit TV systems only sporadically and randomly monitored, while distance and orientation are abstracted from the physical plane?
I think not. Poe's unnamed narrator is unable to be alone in a social sense – unable to experience solitude, depending for his very character on modern mass urbanity. Our walker, by contrast, is unable to experience being alone in place itself: not knowing where she is, and too unfit to travel across appreciable portions of the city by her own motive power, she is condemned to a socialised spatial existence.
Rebecca Solnit in Wanderlust, her magisterial history of walking, writes of her own experiences of danger during nighttime promenades in San Francisco: "I was advised to stay indoors at night, to wear baggy clothes, to cover or cut my hair, to try to look like a man, to move someplace more expensive, to take taxis, to buy a car, to move in groups, to get a man to escort me – all modern versions of Greek walls and Assyrian veils." And so she realises that "many women had been so successfully socialised to know their place that they had chosen more conservative, gregarious lives without realising why. The very desire to walk alone had been extinguished in them …" She later observes that "Black men nowadays are seen as working-class women were a century ago: as a criminal category when in public."
The Stoic philosopher Epicurus maintained that free will was only an illusory sense we experience when the actions necessitated for us by circumstance fortuitously coincide with what we happen to want – it's my belief that this perfectly characterises the psychotic spatial awareness of the vast majority of contemporary urban dwellers; while the existential threats afflicting women, and the state-sanctioned ones that impinge, in particular, on young black men in British cities, have been internalised even by those – the white, the middle-aged and the middle class – who have no reason to be so trammelled. Put bluntly: deprived of mechanised means of locomotion – the car, the bus, the train – and without the aid of technology, the majority of urbanites, who constitute the vast majority of Britons, neither know where they are, nor are capable of getting somewhere else under their own power.
Nor even yet are they able to formulate the desire to do such a thing. So far as they are concerned, the journeys to work, to shop, to be entertained, to liaise with their social circle are all the utilisation of the built environment – such unpremeditated and willed walking as there is remains within these contexts, the most egregious example being the shopping mall itself. Yet a little over a century ago, 90% of Londoners' journeys under six miles were still made on foot – many of these would have been commutes, but even a walk to work involves a physical possession of the built environment and the exercise of orienting skills.
Year on year, the number of journeys taken on foot declines – indeed, on current projections walking will have died out altogether as a means of transport by the middle of this century. No longer subjected to the measure of man – or woman – or her oversight, the city has already acquired distorted lineaments: vastly extended thoroughfares are lined by cul-de-sacs, while the architecture defined by Rem Koolhaas as "junkspace" presumes that only a corridor can be a viable destination – especially if it has a cash machine. Suburbia, and the inter-zone between the city proper and its rural hinterland, is the tangible form of this disregard, being a collection of locations that no longer convey any sense of place.
Recall Borges's famous "Map of the Empire whose size was that of the Empire … In the Deserts of the West, still today, there are Tattered Ruins of that Map, inhabited by Animals and Beggars; in all the Land there is no other Relic of the Disciplines of Geography."
Borges's animals and beggars are those who still seek the disciplines of physical geography – we understand that to walk the city and its environs is, in a very powerful sense, to use it. The contemporary flâneur is by nature and inclination a democratising force who seeks equality of access, freedom of movement and the dissolution of corporate and state control.
This is an edited version of Will Self's inaugural lecture as professor of contemporary thought at Brunel University.

eddie

The Gap Minder




Posts

: 7840


Join date

: 2011-04-11


Age

: 62


Location

: Desert Island




eddie

The Gap Minder




Posts

: 7840


Join date

: 2011-04-11


Age

: 62


Location

: Desert Island




eddie

The Gap Minder




Posts

: 7840


Join date

: 2011-04-11


Age

: 62


Location

: Desert Island




eddie

The Gap Minder




Posts

: 7840


Join date

: 2011-04-11


Age

: 62


Location

: Desert Island



Last edited by eddie on Tue Apr 24, 2012 4:00 am; edited 1 time in total

eddie

The Gap Minder




Posts

: 7840


Join date

: 2011-04-11


Age

: 62


Location

: Desert Island



Last edited by eddie on Mon Apr 23, 2012 6:02 pm; edited 1 time in total

eddie

The Gap Minder




Posts

: 7840


Join date

: 2011-04-11


Age

: 62


Location

: Desert Island




eddie

The Gap Minder




Posts

: 7840


Join date

: 2011-04-11


Age

: 62


Location

: Desert Island



^
To all of which one can only say, 'Thank goodness for Will Self!'


eddie

The Gap Minder




Posts

: 7840


Join date

: 2011-04-11


Age

: 62


Location

: Desert Island




---
Permissions in this forum:
You
cannot
reply to topics in this forum