Is That a Fish in Your Ear? by David Bellos - review
An inquiry into the finer points of translation
Michael Hofmann
guardian.co.uk, Thursday 22 September 2011 22.55 BST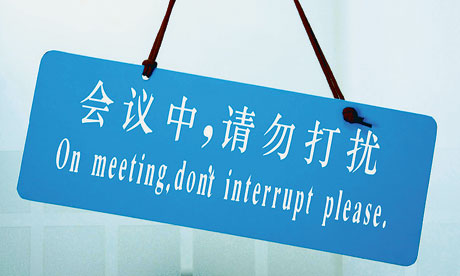 Sign with Chinese characters translated into English as 'On meeting, don't interrupt please'
Photograph: James Hardy/Getty Images/PhotoAlto
A frolicsome cover, and a title and subtitle that perform in two different registers of cool, mask a disquisition of remarkable freshness on language, speech and translation. In short, punchy, instructive chapters that take in such things as linguistics, philosophy, dictionaries, machine translation, Bible translations, international law, the Nuremberg trials, the European Union and the rise of simultaneous interpreting ("the Soviet delegate has just made a joke"), David Bellos, Princeton professor and translator of Georges Perec, Ismail Kadare and others, makes a maximalist case for translation as perhaps the definitive human activity.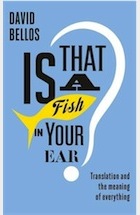 Is That a Fish in Your Ear? Translation and the Meaning of Everything
by David Bellos
The great Australian poet Les Murray says simply: "We are a language species." There are some 7,000 languages currently in use in the world. Were there to be parity among them – which of course there isn't – that would give rise to 25 million different pairs of languages, and therefore twice as many "potentially separate translation practices"; French into English not being the same as English into French. Suddenly, a new 49 million-ply international industry looms. In fact, though, there are only around 50 languages that participate significantly in the give and take of translation – resulting in a paltry 2,500 language relationships (thus winnowing the field by a factor of a handy 20,000) – and those not particularly equally.
There is a top table of a dozen or so languages (Chinese, Hindi, Arabic, Spanish, and so on) which will obtain access to most of the world for you, and then there is English, which is the "inter-language" of choice. (Bellos has a faible for technical terms, and luckily another one for explaining them.) For some reason – Hollywood, science, military alliances, tourism, pop music, the web – it's most people's favourite alternative language. "The reasons why English has made a clean sweep [...] are not straightforward. Among them we cannot possibly include the unfortunate but widespread idea that English is simpler than other languages." It's a very typical Bellos notion, that of the effective wrong idea.
Of the million translated books listed by Unesco since its inception, fully one tenth are translated into English, and a staggering two thirds from English. This means (at least) two things: books written in English are at an enormous advantage against books written in any other language; and "whatever language you write in, the translation that counts is the English one". English is the floor, the language of international competition, the language of visibility. Sans English, you do not pass go. Sans English, there is no go.
It also means that in the field of translations, English is in play fully three-quarters of the time. Who knew? Really, it ought to mean that we have a keen sense of our good fortune; that (as befits a trading nation and an island state) we are comfortable with the idea of translation, knowing as we do that our books have an absurdly easy time of it abroad, and that we are kept tolerably well supplied from other languages; that we devote a respectable amount of thought to the commerce of books and ideas through a jostle of languages. That, to adapt one of Bellos's eccentric and wonderful heroes, a Francophone writer with the nom de plume of Antoine Volodine, we revere English not as the language of Byron and Shakespeare and JK Rowling, but as the ultimate repository of, say, Eco and Remarque and Kawabata. Instead of which, translation is a dirty secret, and the level of thinking about it ought to be an embarrassment. (That's not Bellos, by the way, it's me.)
Because Bellos seems to have that rare and wonderful thing, a sunny, Scotch (or Scotch-educated) temperament. There may be no particular reason for things to be the way they are – "the solar structure of the global book world wasn't designed by anyone"; he points it out, and moves on. He doesn't accuse, doesn't lament, doesn't gripe. The terrain is fraught with misconceptions, many of them ancient and indurated. He clears away a few: "The Great Eskimo Vocabulary Hoax" (that's the "hundred words for snow" idea to you); the canard of fidelity; the "no substitute for the original" prejudice against translation (mostly – though you don't find him saying so – from people who have never learned a language or crossed a street to read an author); the idea of languages as settled, finite things whose natural habitat is dictionaries (as if wild animals came from zoos); the idea of language as separate from speech (this too he has a label for: "scriptism"); the idea that Robert Frost ever said anything like "poetry is what gets lost in translation" (it was news to me too that he hadn't).
He doesn't make translating appear any harder than it is, or better than it is. He describes his work as rewriting foreign books into something he engagingly calls "English-minus" – English with the least possible amount of local or regional or national variations, so that it can be read all over the (English-speaking) world. Literary translators "don't have too hard a time", he says. "Using one word for another isn't special, it's what [people] do all the time." And then, for the T-shirt: "Translators just do it in two languages."
When Bellos finally settles on a thing for a translation to be, it doesn't come trailing philosophical clouds of glory and ingenuity. In that empirical, British, stone-kicking way, finding a dauntingly simple word for something almost indescribable, he asks that it be "a match". I could say anyone with an interest in translation should read Is That a Fish, but there wouldn't be very much point; instead, anyone with no interest in translation, please read David Bellos's brilliant book.
Michael Hofmann's Selected Poems is published by Faber.
© 2011 Guardian News and Media Limited or its affiliated companies. All rights reserved.
Last edited by eddie on Mon Oct 17, 2011 6:36 pm; edited 1 time in total

eddie

The Gap Minder




Posts

: 7840


Join date

: 2011-04-11


Age

: 62


Location

: Desert Island



Adam Thorpe's top 10 English translations
From Beowulf to Asterix, the writer celebrates translations that 'revive the flame in the carrying'
Adam Thorpe
guardian.co.uk, Wednesday 19 October 2011 14.55 BST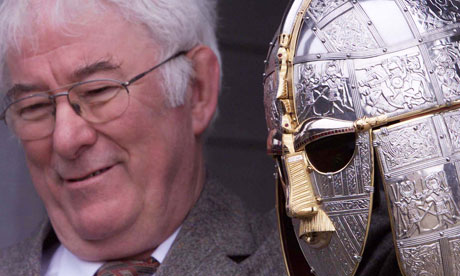 Seamus Heaney's rendering of Beowulf banishes 'grisly memories of university days ploughing over Old English assignments'. Photograph: Andrew Parsons/PA
The poet, playwright and novelist Adam Thorpe was born in Paris in 1956 and now lives in France. His translation of Madame Bovary is published this month by Vintage Classics.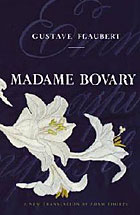 Madame Bovary
by Gustave Flaubert, translated by Adam Thorpe
"Choosing the best translation is essentially a matter of trust. Unless you know the original work very well, it is impossible to judge a translation – even by the lodestar of fidelity. A literal, academic version may reproduce the meaning, but everything else is likely to be missing: nuance, humour, music, tone, colouring … exactly what made the work worth translating in the first place. On the other hand, a free translation may betray the author's intentions, however subtly.
"And are versions, with their 'after' get-out clause (as in 'after Rimbaud'), really translations? Not quite, even though the results may be as compelling as Ted Hughes's Tales from Ovid or Christopher Logue's retake of the Iliad, War Music. The translator's job is so gruelling that it would be unfair to place these in the same category. In the end, accuracy – in all its forms – must be the gold standard. There again, smuggling a text over the linguistic border involves a lot of cunning as well as compromise. No two languages have the same grammar, for a start, let alone the same music. You have to accept inevitable loss. If the hippo is the sperm whale's closest relative, then that's as close a resemblance as even the finest translation can hope to achieve … but it is, at least, its own creature.
"Ultimately, I've chosen the following for a number of reasons: because they have been important to me over the years, are great achievements in their own right, and vibrate with an energy that seems to be derived from the ur-text, rather as a vinyl mysteriously keeps the warmth of the live recording. The flame has been revived in the carrying, even where the distance – between Chinese and English, say – is vast."
1. Beowulf, translated by Seamus Heaney (Faber & Faber)
Heaney's magnificent rendering of the earliest English epic has its roots, ironically, in his Northern Irish background: its local voices enabled him to "find the tuning fork … the note and pitch for the overall music of the work". The result is pitch-perfect. My grisly memories of university days ploughing over Old English assignments have been banished.
2. Russian Short Stories, translated by Robert Chandler and others (Penguin Classics)
The indefatigable Robert Chandler is now best known for his masterly translation of Grossman's marathon Life and Fate, but this volume is a superb introduction to the Russian genius for the literary sprint – in all its variation of subject, style and mood. From Gogol and Chekhov to lesser-known figures such as Platonov or the tragic Shalamov, there is always a streak of pain.
3. Poems by Wang Wei, translated by GW Robinson (Penguin Classics)
I have treasured this selection of the great eighth-century Chinese poet and painter for decades. With their tonal intricacies, rhymes and strict patterns, his poems are fiendishly hard to translate, but here they are lovingly rendered by a far-eastern scholar for whom this was virtually a life's work. Wang Wei, civil servant and recluse, feels very close to us, murmuring of the tiny miracles of nature as he watches "white clouds curl on the blue hills".
4. Thomas Mann's The Holy Sinner, translated by HT Lowe-Porter (Penguin Modern Classics)
Mann's last novel (published in 1951) is a disturbing, incest-seamed exploration of original sin and redemption based on the medieval legend of St Gregory. Written in appropriate period style, it has extraordinary force in this rendering by Helen Tracy Lowe-Porter. The translation is itself a masterpiece, right from the opening line: "The ringing of bells, the surging and swelling of bells supra urbem, above the whole city …"
5. Ezra Pound: Translations (Faber & Faber)
Claiming modernism's timelessness, Pound favoured pre-modern poems from the Chinese, Provençal, Greek, Latin, Old English and Tuscan. As in his dire politics, he broke the rules, cheekily favouring sound over meaning (see his salt-encrusted rendition of The Seafarer). Yet he somehow managed to be uncannily accurate to the original's spirit, to its far-off gleams and shadows, whether those of Bernart de Ventadorn or a mischievous Catullus.
6. Asterix by Goscinny and Uderzo, translated by Anthea Bell and Derek Hockridge (Hodder Children's Books)
Humour is usually the first casualty in translation, but by some miracle (no, by sheer hard work and imagination) Bell and Hockridge salvage most of the jokes, some of them sophisticated puns. And the names are just as good in the English: Idéfix to Dogmatix, Agecanonix to Geriatrix …
7. The Odyssey by Homer, translated by TE Lawrence (OUP)
Lawrence felt he was uniquely qualified to translate Homer's epic as he had "hunted wild boars and watched wild lions … built boats and killed many men". He was right, it has to be admitted: this lyrical prose conversion has the seaworn smoothness of battered driftwood.
8. Tyndale's Bible
Translation can be dangerous, especially if the results are widely disseminated in print. Much of the King James Bible (which contains some of the finest prose poems in the language) is drawn from William Tyndale's scrupulous translation, the success of which ultimately cost him his life. Unfortunately, the Protestant word meant the wholesale destruction of the Catholic art of these islands; overall, I'd have preferred the art.
9. The Essays of Montaigne – John Florio (1603)
Montaigne invented the meditative humanist ramble known as the essay. Sadly, France was to follow the dry, classical rigours of the likes of Descartes. Florio rendered Montaigne's philosophical soliloquies into chewable Elizabethan English at about the time his (likely) friend Shakespeare was writing Hamlet …
10. The Epic of Gilgamesh, translated by NK Sandars (Penguin Classics)
More than 20 years ago, I spent weeks in the British Library ploughing through word-by-word translations (from the Assyrian) of this epic tale – the first literary work of the ancient world – in a futile attempt to transpose it into verse. But Sandars's prose version, scrupulous in its scholarship and quiet poetry, is still unbeatable: "O Shamash, hear me, hear me, Shamash, let my voice be heard."
© 2011 Guardian News and Media Limited or its affiliated companies. All rights reserved.

eddie

The Gap Minder




Posts

: 7840


Join date

: 2011-04-11


Age

: 62


Location

: Desert Island



...thanks for the above post eddie. Translation is everything. It's good to have a list of the considered-to-be best ones.
blue moon wrote:...thanks for the above post eddie. Translation is everything. It's good to have a list of the considered-to-be best ones.

eddie

The Gap Minder




Posts

: 7840


Join date

: 2011-04-11


Age

: 62


Location

: Desert Island



Madame Bovary: the Everest of translation
By sticking to period language in his new translation, Adam Thorpe hoped to make Flaubert's masterpiece searingly radical again
Adam Thorpe
guardian.co.uk, Friday 21 October 2011 22.55 BST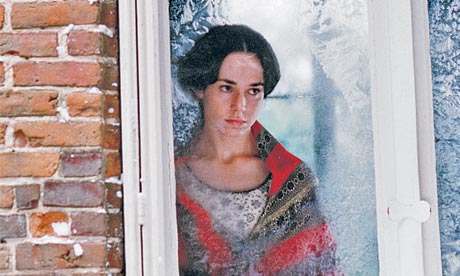 'Oeuvre immorale': Frances O'Connor as Emma in a BBC2 adaptation of the novel. Photograph: BBC
I have spent the last three years translating Flaubert's Madame Bovary into English. When I tell people this, there are two reactions: the first is a sympathetic groan, the second a question: "What's the point? It's already been done." Yes, about 19 times – and the latest was just a year ago, by the American short-story writer Lydia Davis.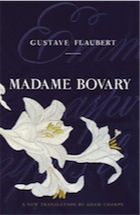 Madame Bovary
by Gustave Flaubert, translated by Adam Thorpe
So I find myself on the back foot, explaining why great foreign classics need more than a single rendering into English. For a start, although no translation is perfect, some are poor. For most of us this is the only way we receive non-English literature, so a poor translation is a serious issue. A good translation holds faith with the original's aura, and then it should soar. What is lost – imagine DH Lawrence's very English pulse rendered into the far fainter beats of French – can be partially made up for by the qualities gained in the host language. Having several good translations is no bad thing – they are autonomous creations, yielding different aspects of the original text.
It is, admittedly, harder to justify a 20th stab. Flaubert's unexotic story of boredom and adultery in the flatlands of 19th-century Normandy is the Everest of translation, and the slopes are crowded with foolhardy expeditions. "We love what tortures us," said its author. But what makes his book – of only average length – feel so high and treacherous?
For a start, Madame Bovary is perhaps the most carefully written book in literary history. It is the verbal equivalent of the Franck Muller Aeternitas Mega 4 wristwatch, with 36 complications and a 1,000-year calendar. The latter is totally unnecessary to the ordinary mortal, but then so is the exquisite music and mimicry of Flaubert's language: instead of five years of endless and agonised tweaking, he might have knocked out his provincial tale in a few months. But it isn't just the interplay of verbal effects and rhythm that keeps the translator up at night, if he or she decides to reproduce this music (as I did) in the host language. Flaubert did strange things, such as eliminating any authorial voice or stable moral centre; he used the imperfect as his main tense, giving a single action the sense of being suspended in time; played with varying shades of irony down to the deepest hues of pastiche; slipped between the subjective and the objective viewpoint without a tremor. The first quarter of the book is more about Charles, the dullest of husbands, than about Emma – whose enamel-like eyes are blue, deep blue, brown and black.
Down at base camp I made a decision equivalent to climbing without oxygen in 19th-century gear: I would stick to period language. My reasoning was simple: Flaubert called the novel a "poem". When I accepted the offer to translate it, I had an image of myself running my hands over its every plane and curve, imprinting its memory in English. But what kind of English? A contemporary idiom blurs not only Flaubert's precision but the shocking and revolutionary nature of the work, which makes more sense when set back in its own time and context. I bought Spiers's French-English dictionary, published in 1853, and a battered, soot-smelling first printing of the novel – only affordable because "oeuvre immorale" ("immoral work") had been scrawled with a quill on the flyleaf, and an anti-royalist page torn out. Which proved my point.
As stylistic touchstones, Flaubert's strict English contemporaries – Dickens, say, or George Eliot – were not self-conscious enough about language, for all their genius. I chose Henry James and early James Joyce, who both wrote later than Flaubert. Joyce's Dubliners, with its brilliant edge of detachment and perfected plainness, actually sounds at times as if it has an original in maybe Irish or French, while James's prose buckles standard English as it traces a character's interior consciousness.
This question of what English to use haunts every translator, starting with the divide between British English and American English. Davis uses a crisp, clean version of the latter, not only rhythmically but lexically – the schoolboy Charles is "dressed in regular clothes", his shirt "emerged from a pair of yellowish pants", his conversation is "flat as a sidewalk". Apart from the anachronisms (which many would accept as a necessary update), speakers of American English will have no problem with this.
My approach was radically different. As those familiar with my novels know (especially Ulverton and Hodd), I've always believed in the modernity of the past, from which our temporal conceit blinkers us. With an effort of the imagination we can think back to the past's present, when it was fresh and frighteningly new to those who dwelt in it, and language can be the spell that gets us there. I was convinced that, if set back in its own linguistic context, with our awareness of Victorian literature shadow-playing in the background, an English Madame Bovary could seem searingly radical again.
Two years in, at around page 300, I felt I had been doing this all my life. Davis admitted, in a reading given during her own struggle, that, Emma-like, she was "a little bored with the whole project". I can't say I was ever bored, but often seriously frustrated. Inch by inch, I would cover the ground, only to slip back when, for example, I realised that Flaubert had been using an extended metaphor (military, legal, whatever) for an entire paragraph. There were times when I tumbled into the crevice between the two languages, lost all sight of a natural English sentence, felt myself turning into the constituent molecules of a linguistic object – a pattern of auxiliaries, participles, pronouns.
Like Joyce, Flaubert can be drily comic, but humour is dependent on a precise selection of words, registers and double meanings, so I had to take an irony geiger count of every sentence – whose "right" translation lurked just around the corner. This was the version that combined accuracy, naturalness and musicality. The problem was the lack of corners: as in a dream, there would be one long traverse with nothing on it. The solution would appear (sometimes the novel felt like a vast crossword puzzle) through a combination of experiment, meditation and lateral thought: I had to step firmly away from the French and face a contrary direction – another track entirely. The solution usually had only two out of the three essential elements, and more work had to be done: less a path to climb than a Rubik's Cube of words to be twisted about or thrown at the wall.
Even more is at stake when the very genius of the novel lies on the shimmering surface. This is not to do with ornament, but meaning. Flaubert wished to close the gap not just between words and emotional truths, but between words and things: the sound of Hippolyte's wooden leg in the church ("They heard on the flagstones something like the sharp click of an iron-shod pole tapping them with even strokes"); the lumbering sway of cattle; the scoop of a hand in sugar-white arsenic.
This was crucial to get right, not only because it was what previous translators had largely omitted, but because I'm obsessed by the same equation in my own work. There's an extraordinary moment when Emma waltzes up at the chateau, surrounded by the "indifferent … brutality" of the upper classes. In the French, the whirling dissolves the words into a streaky, clicking blur of vowels: "Ils tournaient: tout tournaient autour d'eux …" It seemed essential to mimic this mimicry, but how? Previous translations had not even tried: "They turned, and everything turned round them …" (Alan Russell); "They were turning: everything was turning around them …" (both Geoffrey Wall and Davis). I felt the key was to use stretched vowels and to find an equivalent echo between "tout" and "tournaient": "They were reeling round: all reeled round and about them …"
Historical details took hours of research: for a debauched night, Emma sports a "lampion" on one ear: not the unlikely "paper lantern" (Wall), nor a "cocked hat" (Eleanor Marx Aveling, Russell and Davis), but a suitably Gypsy-like "lantern earring" – fashionable at the time. Puzzled by ambiguous, Swiss-knife words of multiple use, I searched through countless earlier drafts on the University of Rouen's website. This in turn could be risky. For instance, Flaubert bizarrely uses the plural "jours" (normally "days", less usually "chinks", but also "daylight" in the singular) to describe light filtering in through a trellis on the dying Charles: "Des jours passaient par le treillis." Flaubert had included the following in an earlier draft: "All the sorrows of his life returned to him … from the first day to the last."' He cut this, but persisted (if hesitantly) with the awkward "jours"; I was sure that he intended this to be initially misread as the poetic and ambiguous "Days passed by the trellis", suggesting memories and the changing seasons. Now, seized by the commonest affliction of translators in their obsessive dialogue with dead authors, I question my choice and may well, in Flaubertian fashion, revise it for the second printing.
From his tobacco-fugged study in Croisset, the Normandy hamlet where he lived with his mother and niece, Flaubert created an autonomous parallel universe: fiction as refuge from an outside world full of pain, peevishness and bourgeois vulgarity. These uglier elements feature in Madame Bovary to a degree that still shocks, creating complex cross-ripples, tugging against the author's ultimate literary aim of beauty and harmony. The pharmacist Homais's blather about progress is drawn with as much ruthless precision as the Blind Man's scrofulous face, Emma's final agony or her husband's uselessness. Flaubert was a disappointed romantic who embraced realism like a drinker embraces teetotalism: his "realism" was less a social exposure than a quasi-scientific exactitude, peeling away everything that was not "true": "Poetry," he claimed, "is as precise as geometry."
If much of the blame for Emma Bovary's fatal fantasising is placed on her reading of sentimental literature, the romantic passages – pastiches of poets such as Lamartine – remain enticing in their lyricism. Flaubert's heart is still in them, as it were. A translation has to convey both their beguiling beauty and that bitter after-taste of mockery: nowhere more so than in the celebrated scene of al fresco sex between Emma and Rodolphe: "The silence was everywhere; something sweet seemed to rise from the trees; she was aware of her heart, that was beating again, and of the blood circling through her flesh like a river of milk …"
For Flaubert, to write was to gallop into the land of the imagination on a thoroughbred whose life-blood was rhythm; my challenge was not only to stay in the saddle, but to remain the phantom rider, vanishing under the rippling power of words that are and are not the author's own.
Adam Thorpe's translation of Madame Bovary is published by Vintage (£18.99).
© 2011 Guardian News and Media Limited or its affiliated companies. All rights reserved.

eddie

The Gap Minder




Posts

: 7840


Join date

: 2011-04-11


Age

: 62


Location

: Desert Island





Similar topics
---
Permissions in this forum:
You
cannot
reply to topics in this forum